ABEL GARCIA AYALA
Classical Guitar
Mexico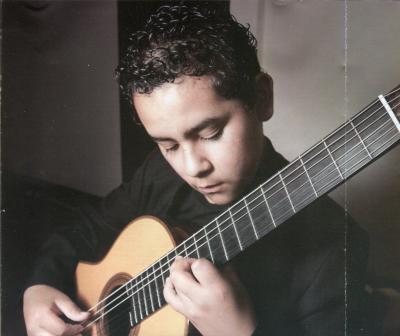 Biography
Abel Garcia Ayala began his guitar studies in 2004 at the Center for Research and Development of Guitar (CIDEGA.C.) in Paracho with Jaime Gómez.
He won several awards including: the VIIth and IXth National Children's Contest Guitarists of Paracho 2004 and 2006; the VIIIth National Contest of Children Guitarists of Paracho 2005; the Xth International Classical Guitar Competition "Julián Arcas" prize "Antonio de Torres" in Almeria in Spain in 2009; lepremier Salamanca National Guitar Competition 2009; Paracho Guitar Competition 2010. He took lessons with Alfredo Sánchez, Juan Carlos Laguna, Mario Lavista, Judicaël Perroy, Carlos Bonell, Masahiro Ojiri, Paulino García, Gilberto Puente, David Russel, Ricardo Gallén and Leo Brouwer. Abel made the first parts of John Williams concerts at the City Theatre in Mexico and Monterrey, he took part in Guitar International Festivals: Saltillo Coahuila, Ensenada, Colima, Taxco, Warrior, Morelia, Queretaro and Salamanca and played for several editions of Paracho Guitar Festival. It is as soloist with the Symphonic Orchestra of Michoacán, under the direction of Eduardo Sánchez Zuber to Remain Theatre (Morelia, Mich.), Sala Nezahualcoyotl (Mexico. DF) and Sahuayo, Mich., The orchestra of the International Festival of Salamanca in 2011, and interprets a Gentleman of J. Rodrigo. It also offers concerts at the Post-graduate College of Violettes Tab., Former Jesuit College of Patzcuaro, and also participated in the fifteenth Hispano-American Festival of Guitar Tijuana BC.
In 2009, he reports to Sherwood Conservatory of Music in Chicago and Rou Center For The Arts in the city of Crystal. It also participates in the Mediterranean VIIth Guitar Festival in the town of Cervo in Italy. Twice he played as a soloist with the Chamber Orchestra of UMSNH, under the direction of Mario Rodriguez Taboada. He received a degree in 2012 in the international festival of classical guitar Culiacan, presented by Ricardo Gallén and the trio Nahual.
Abel currently studies at the Music Conservatory of Morelia Michoacán.
CD/DVD