Alexandre Bernoud
Classical guitar
France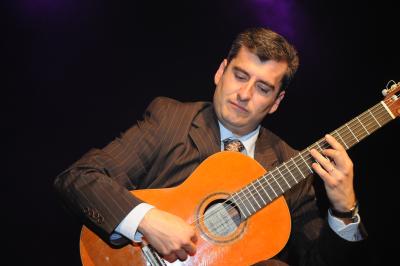 Biography
A student of François Castet at the Givors Conservatory, he was awarded a unanimous gold medal and a unanimous recital prize with the jury's congratulations. He completed his training with Master Alberto Ponce at the Ecole normale de musique de Paris and obtained the Diplôme supérieur d'exécution. Finalist of the Carpentras International Competition at the age of 19, he was the winner and public prize winner of the René Bartoli International Competition in 1998.
In 2009, the prestigious label GHA Records invited him to join its catalogue of artists. He now appears alongside the greatest names in guitar today: Sergio and Odair Assad, Eduardo Isaac, David Russell... He thus becomes the second Frenchman, with Roland Dyens, to join this label so coveted by guitarists.
Dedicated to numerous works by Bernard Piris, Juan Manuel Cortès and Jaime Cordoba, including a concerto by the latter, "Tierra de Ancestros", which was premiered with orchestra in Nancy in February 2013.
Holder of a State Diploma at the age of 19 and a certificate of aptitude since 2002, he teaches at the Conservatory of Music, Dance and Dramatic Art in Nîmes.