Alexis Didier
Guitar
France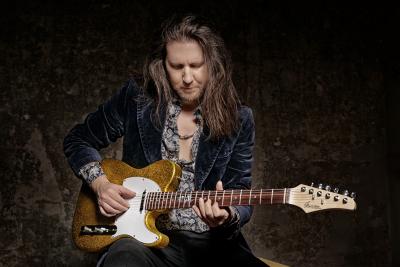 Biography
Alexis Didier (Mr Al):  guitarist, singer-songwriter, arranger and music teacher.
Growing up in a musical universe, sitting in on the recording sessions of his father, Roger Didier, it was only natural that Alexis would eventually pick up a guitar and start playing.
His encounter with popular music and blues guitarist Réné Lebhar fed his urge to persevere and improve. This led to night courses at the music conservatory while at the same time playing in different bands.
At the age of 20, he enrolled in the ATLA school of music in Paris. When he graduated, he was invited to teach in their professional program, specialized in jazz and blues. He has been perfecting his teaching skills there for more than 20 years now.
In the early 2000s, he recorded two albums under the name "The Mr Al Blues Band".
Eclectic stage and studio musician, always eager to learn and improve, he widely collaborated with soul, hip-hop and popular music artists before returning to his first love... jazz and blues.
In 2014, he teamed up with Jessie Lee Houllier to form the band "Jessie Lee & The ALchemists", composing and arranging as well as playing guitar. This band gave him the opportunity to combine all his musical influences in both his songwriting and playing, including blues-rock with a distinctive groove, jazz and improvisation, one of his specialties. A first album came out in 2018 under the band's name, followed by a tour throughout France and abroad. A new album is in the works and will be released by Dixiefrog Records on May 7th, 2021.