Anaïs Bazoge
Electric guitar
France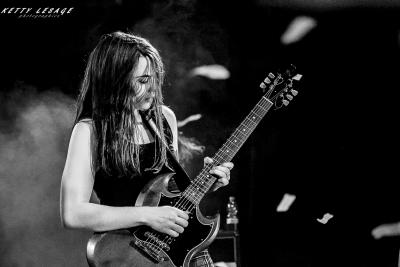 Biography
Passionate about music since childhood, Anaïs discovered her true vocation for the guitar at the age of eleven. Very quickly, she turned to blues rock before discovering metal, which would become one of her favourite styles.
In 2013, she graduated as a professional musician from the Music Academy International in Nancy.
Anaïs is now a guitar teacher for the Pensy classes in Rennes. Since 2018, she plays the role of Angus Young in the AC/DC cover band the Ladies Ballbreaker.
In 2019, Anaïs decides to form her death metal band Mental Vortex for which she plays the roles of composer, rhythm guitarist and soloist.