ANGELO BARRICELLI​
Classical Guitar
Italy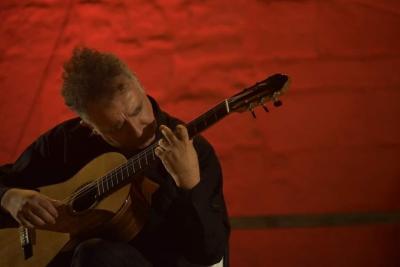 Biography
Angelo Barricelli started his guitar studies at an early age with guitarist Pietro Condorelli with whom he began an intense collaboration lasting two years. 
Under the guidance of M° Giovanni Zaccari, he brilliantly graduated in the "D. Cimarosa" Conservatory in Avellino. He has been a member of Euphonia Guitar Quartet With M° Giovanni Zaccari, performing in several recitals and recording a 20th century music album published by "Santabarbara". 
He completed his artistic training with internationally acknowledged musicians such as Carlo Barone, Pino Forresu, Alvaro Company, Bruno Battisti D'Amario, Mauro Storti and Manuel Barrueco . He performed in several recitals organized by A.Gi.Mus, C.A.M. and "Amici della Musica" in Italy. 
He has often been invited to the exhibition "Settembre al Borgo" in Caserta Vecchia, where he met enthusiastic appreciation from the specialized critique and several review articles in the press (in newspapers such as La Repubblica, Il Tempo, Il Mattino di Napoli etc… ).
He has been finalist in many competitions and won several guitar awards. His musical activity is intense both as a soloist and with chamber ensembles, leading him to perform in Italy, Spain an Sud America.
He has recently toured with violinist Tatjana Olujic, with whom he still co-operates, and played with Ugo Orlandi and the "Ensemble mandolinistico italiano" in Ischia isola verde.  
He teaches classical guitar at Middle School "R. Perla" in S. Maria Capua Vetere (Caserta).
He recently played remarkable recitals in Spain, where he was celebrated both by general public and critique (El Norte - Valladolid), presenting absolute first performances by Caserta composers Giovanni Zaccari and Emilio Di Donato. Since 2002 he has been regularly invited by Spanish institutions for recitals and conferences.
His first cd as a soloist, "Solochitarra", has been released in 2005. 
He writes on a regular basis on specialized magazines Guitart and Guitart International, where he primarily treats hard disk & guitar recording matters.
CD/DVD