Antonio Segura
Flamenca guitarist
Belgium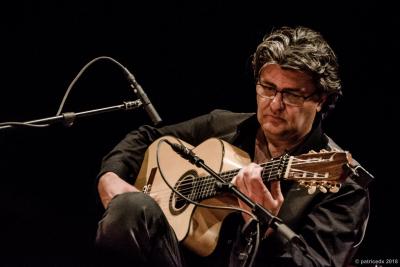 Biography
Antonio Segura, from Seville, began playing guitar at the age of 11 and studied with some of the greatest flamenco masters: Isidoro Carmona - Mario Escudero - Pedro Escalona - Rafael Moreno...
He is co-founder of the groups Yerba Güena - Faena - Macande and participates in several international tours with other musical cultures such as jazz and oriental music.
He has been invited to the most important Belgian festivals: Couleur Cafe, Sfinx, Belga Jazz Festival (Palais des Beaux Arts) Brussels Summer festival, Fetes de Wallonie, Francofollies, Jazz Marathon (Grand Place)...
From 1992 to 1994, he studied at the Jazz Studio in Antwerp, where he studied harmony, musical theory and musical arrangements.
He has composed music for various plays: Minotaur - Marins Sinbad,
for the cinema: One-way ticket and for the album of the group Macande "y lo que nos queda".
Currently he is touring with his new project OLEO and is preparing the recording of his next album.