Axel Bauer 
Electric - Acoustic guitar
France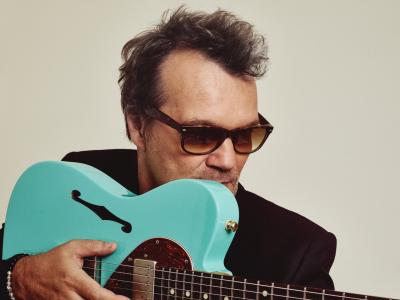 Biography
Icon of the French rock scene, Axel Bauer began his career in 1983, at only 22 years old, with the hit single "Cargo". A real tidal wave in the music business, this musical and visual UFO rapidly gained a sustainable place in the big leagues as an author, a composer, a performer and a guitarist. 
He was the first Frenchman to sign an international contract with EMI London at the time, selling nearly 3 million records, and creating quite an event with every hit release, from the very rock 'n' roll driven "Éteins la Lumière" and its badass riff, to the single "A ma place", a duet with French singer Zazie.
Axel is an awesome stage performer, and has done practically 900 concerts. Recognized as one of the best French guitarists, he is a lead guitarist and singer with a strong personality, endowed with a subtle, evolving and technical guitar playing.
His music is rich & finely composed, and his voice is recognizable and singular. It was his father, Django Reinhart's former drummer, Louis Armstrong's friend, a true fan of Be-Bop who introduced him to Jazz and Blues. In 2015, he took part in the "Autour de la guitare" tour, during which he shared the stage with great guitarists such as Robben Ford, Larry Carlton, Ron Thal and Paul Personne, to name a few.
Acoustic guitar
Electric guitar