BENJAMIN SAVARIAU
Electric, Acoustic, Classical Guitare
France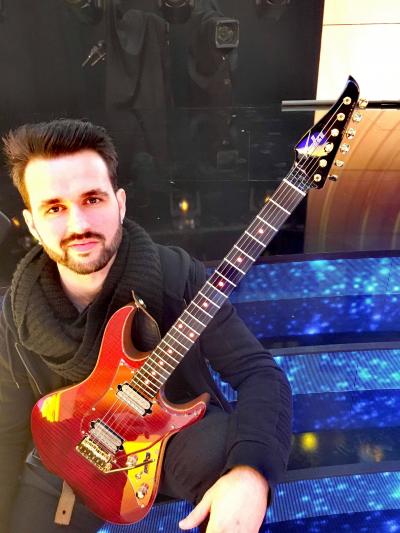 Biography
Self-taught at the beginning, under the influence of a musician family, he immediatly saw this passion as a vocation. After his degree in musicology, a DNOP in current amplified music (at the Conservatoire de Poitiers) and a Master in musicology, he begins as a music theorician with writings about Metal musique mostly, with "Djent, between evolution and revolution of the musical language and its means of developpement" and also "Music and cinema : music for the cinema or cinema for the music ?".
At the same time, he developps numerous musical projects in various esthetics, from traditionnal music with the "Bal'f" Quartet to BigBand Jazz "Jazz A New Parth". It's only since 2009 that things come into form. He becomes the bassist of a progressiv rock band "Witty Alley", with which they relase an EP Some Kind Of Wit (Musea Records), then guitarist/singer in the progressiv Death Metal band "Oroborus" with which they self produced their EP Clone Inc.
In 2011, he becomes the youngest french Conservatory's teacher at 21 years old, and also the new Mermet Guitars ambassador. He then joins the orchestra "Sphère" as a guitarist/singer with which he played more than a hundred concerts, then the "Mister Swing" orchestra with which they play international variety and dancing-tea. His next project is a composition named Ekphrasis, a mix of Jazz, Metal and Progressiv Rock.
In 2017 he joins the production company Energic Animation with which he accompanies a lot of national artists such as Natasha St Pier, Lio, Jenifer, Chimène Badi, Michèle Torr, Amaury Vassili, Dave, Herbert Léonard, les Poppy's and many others.
In 2018, he becomes an artist endorsed by brands like Vola Guitars, Godin Guitars, Seagull Guitars, Klotz ais, San Lorenzo Guitars, SP Custom Pickups, Friedman Amplification, SAVAREZ and Dava picks.
Acoustic guitar
Classical Guitar
Electric guitar