BERTA ROJAS
Classical Guitar
Paraguay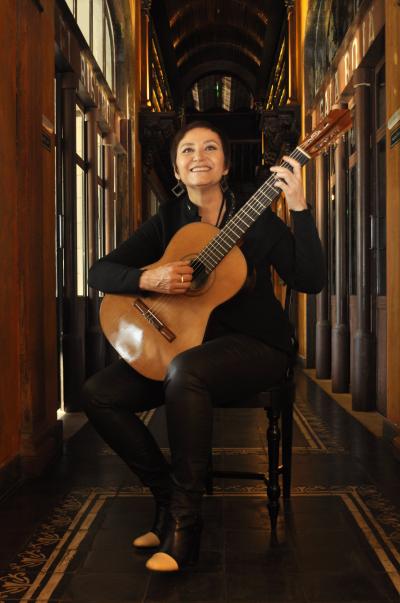 Biography
Renowned for her flawless technique and innate musicality, Berta Rojas ranks among today's foremost classical guitarists. She has been praised as "guitarist extraordinaire" by the Washington Post and by Classical Guitar Magazine as "Ambassador of the classical guitar." She has been nominated three times for a Latin Grammy Award; in the category of Best Instrumental Album for Día y Medio - A Day and a Half, a duet with Paquito D'Rivera (2012), in the category of Best Classical Album, for her album Salsa Roja (2014), and more recently in the category of Best Tango Album, for her album History of Tango (2015), recorded with the Camerata Bariloche.
In 2011, Berta, along with Paquito D'Rivera as guest star, initiated the four-year tour "In the Footsteps of Mangoré" which followed the travels of Agustín Barrios, pioneer of the classical guitar in the Americas. The duo performed in 20 Latin American and Caribbean countries, concluding the journey at the national theater of the capital of El Salvador; the final resting place of this celebrated composer.
Her performances as a soloist showcase her mastery in terms of interpretation and technique. Berta takes the audience of each concert on a colorful journey of sounds embracing new works by composers of diverse genres. This is echoed in her discography which includes recordings such as Cielo Abierto (2006) and Terruño (2009), as well as the duo with Carlos Barbosa-Lima in Alma y Corazón (2007) and the celebrated album, Intimate Barrios (2008), that offers works by the great Paraguayan composer and guitarist, Agustín Barrios.
Rojas has been honored as a Fellow of the Americas by the Kennedy Center for the Performing Arts for her artistic excellence. In a 2014 publication, the news agency EFE deems her one of the most influential women in the Hispanic world.
CD/DVD