Cécile Corbel 
harpist
France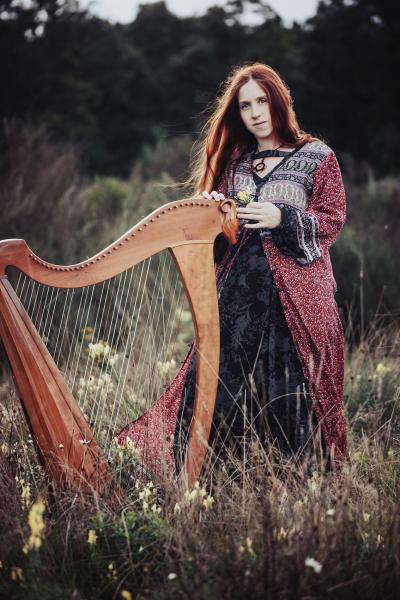 Biography
"During the Cottingley Fairies affair, Arthur Conan Doyle became the advocate of a series of photographs picturing creatures from a fairy land. All were fake. If Sherlock Holmes' creator had been a contemporary of Cecile Corbel's, he would just have had to point at this Morgan Le Fay. Everybody would have come to agree with him. Fairy is not legend.
Born in Pont-Croix, in Finistère in Western France, Cecile Corbel has the red hair and gaelic carnation that attest to her belonging to the Celtic world. This singer-songwriter plays the harp since she was 15 and takes her inspiration from the Arthurian world. And her voice reaches heights only Kate Bush can hit.
Sensitive to ancient tales where any journey is a rite of passage, this true-to-life fairy performed everywhere in France and all over the world with her musicians before she was contacted by the Ghibli studios to create the soundtrack for "Arrietty", the latest film of the Hiromasa Yonebayashi, writed by Hayao Miyazaki, director of My Neighbour Totoro and Ponyo on the Cliff by the Sea
Gold record in Japan and awarded Best Original Soundtrack of the year for The Secret World of Arrietty, this magician who refuses harsh boundaries between musical styles combines Celtic folk and medieval Turkish songs, baroque madrigals and Irish marches, with the ease and the charm of a gifted artist.
Cecile Corbel the enchanteress does exist and she is a great pop voice".
CD/DVD
Discography
-Harpe celtique et chants du monde (2005- Keltia Musique)
-SongBook 1 (2006- Keltia Musique)
-Songbook vol 2 (2008- Keltia Musique)
-Karigurashi (2010-Yamaha Music Communication)
-Arrietty's song EP (2010-Yamaha Music Communication)
-Karigurashi no Arrietty soundtrack (2010 – Tokuma)
-SongBook vol 3 - Renaissance (2011- Keltia Musique)
-Songbook vol 4 - Roses (june 2013 – Keltia musique)
-Terre des Ours - original soundtrack (Polydor Universal - feb 2014)
-La Fiancée (polydor universal - oct 2014)