CHRISTOPHE ASTOLFI
Accoustic Jazz Guitare 
France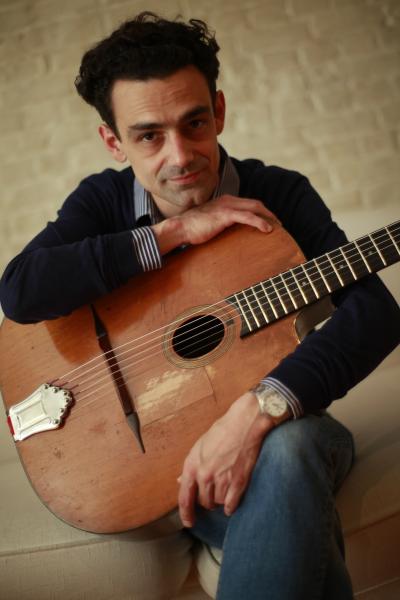 Biography
Christophe Astolfi was born and raised in Lorraine. He studied guitar at the age of 12. It is in accordion orchestras and different groups from rock to jazz that at 17 he begins his professional career. With Italian and gypsy guitarists of his region, particularly Tchavolo and Dorado Schmitt, he becomes familiar with the music of Django Reinhardt.
In 1998 he settled in Brussels where he became a representative of the "reinhardt" tradition in Belgium. He lives there for 10 years and in parallel of his personal projects plays with Philip Catherine, Toots Thielemans, Koen Decauter, Tcha Limberger. He also recorded music for advertising and theater.
In 2008 he joined Paris and quickly joined the local scene alongside David Reinhardt, Samy Daussat, Rodolphe Raffalli and Hugo Lippi.
In 2010 he participated in the project of the director Tony Gatlif «Djangodrom» with Bireli Lagrène, Didier Lockwood, Stochelo Rosenberg.
In 2013 he launched his album "Des Valses" recorded in trio and totally dedicated to swing waltzes and gypsy waltzes. The disc quickly becomes a must in the world of gipsy guitar and Christophe one of the main representatives of this field.
Between 2015 and 2016 he recorded two discs with Boulou and Elios Ferré and in November 2016 published in Éditions Coup de Pouce the first guitar method devoted to the gypsy waltz ever performed. His work is very well received. Christophe is regularly invited to present his work through concerts and masterclasses in France, Europe and the United States.
CD/DVD