Christophe Babin
Bass
France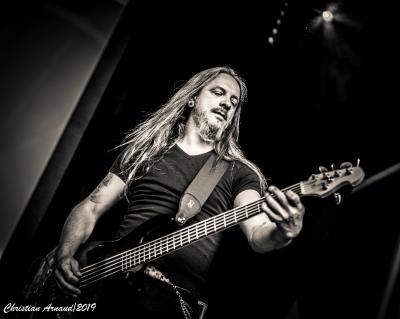 Biography
Born in France in Rochefort/Mer on June 6, 1973. It was at the age of twelve that he touched his first bass, motivated by his music teacher who wanted to create a group for a national competition between high schools, the first two songs he learned on bass were Empty Rooms (Gary Moore) and Fade to Black from Metallica, two ballads but a big stylistic gap that never left him advocating that being interested in all music is a wealth.
After using the rehearsal facilities of his city and the garages of his friends, at 19 years old a cover pop band offered him his first serious contract and allowed him to live from his passion, while playing in various cover bands (Soul, Funk, Rock) It is around 23 years old that he auditioned for the Progressive Metal band Headline with whom he will make 5 albums including two with the drummer Dirk Verbeuren (Megadeth) and tours in Europe with Dio, Dream Theater, Venden Plas, Evergrey, Symphony X etc..... In parallel he pursues his career by doing studio sessions and tours for other groups and artists (Rudy Roberts, Asylum Pyre, Eradicate etc...) including an album "Basses Influences II", composed only of renowned bassists such as Eric Serra, Bernard Paganotti, Jimmy Haslip etc... Studio session for Rudy Robert in guest with Jonathan Mover (Joe Satriani, Aretha Franklin, Alice Cooper...) and Tom Kennedy (Dave Weckl, Steve Lukather, David Sanborn...) Studio session for Ayme (The voice season 2 and Dracula la comédie musicale).
In 2014 he met up with guitarist-Celtic rock-metal singer Pat O'May to join his band (James Wood, John Hellfy), at the same time he joined the new project of guitarist/producer Didier Chesneau "Attraction Theory" with singer Constance Amelane and drummer John Macaluso (Ark, Yngwie Malmsteen, TNT etc...).
In 2017 he shared the stage as a bass player with Ian Paice (Deep Purple), Patrick Rondat (Jean-Michel Jarre), Ron "Bumblefoot" Thal (Guns & Roses, Sons of Apollo), Diabolo (Higelin, Bashung), Pat Mc Manus (Mama's Boys), Jonathan Noyce (Archive, Gary Moore) among others. 2018, bass session for the soundtrack of the film "Et mon coeur transparent" directed by the Vital-Durand brothers, composed by Erwan Coïc and with Julien Boisselier, Caterina Murino, Serge Riaboukine, Sara Giraudeau...