DANI DE MORÓ​N
Flamenco guitar
Spain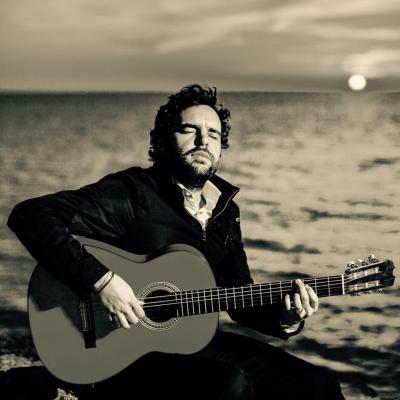 Biography
Daniel Lopez Vicente was born in Seville on September 6, 1981, but lived all his life in Moron de la Frontera. At twelve, he enrolled in the municipal conservatory of music in this town. His first intention was to study piano but he ended up choosing guitar.
As Moron is a town in which the flamenco guitar has 'Protected Designation of Origin', he began to feel the itch of flamenco and considered the need of finding a teacher. He wanted to have lessons with Manolo Morilla-Gastor, one of the most important local masters. Given to his advanced age he delegated on his student Alfonso Clavijo. But soon, Daniel began to study with Manolo Morilla himself, unofficially teaching him. The man became excited at the talent of this young flamenco guitarist in whom he believed had a promising future.
The first contacts with flamenco clubs gave Daniel the taste for playing flamenco dancing. The academy of Matilde Coral became his second school and the flamenco dancer Manuel Corrales 'el Mimbre' and the singer Curro Fernandez his masters.
He began to combine the technique of playing for dancing with composition and the technique of playing for concerts. In this context, he participated in the most important contests of flamenco guitar. Along this journey he gathered awards such as those from Hospitalet, Calasparra (Murcia) and the federation of Flamenco Clubs (Federacion de Penas Flamencas) in Seville. Likewise, he has been a finalist in contests like the one in Las Minas de la Union and the Biennal of Flamenco 2002. Daniel Mendez entered the circuit of the great flamenco companies given with Antonio Canales. Moreover, he took part in the setting up of the show 'Rinconte y Cortadillo' of Javier Latorre, where he played music composed by Juan Carlos Romero.
However, his ultimate accolade was being asked by the maestro Paco de Lucia to accompany him as second guitarist on the tour of the album 'Good Little Things', an experience that would open a new dimension and catapult to te forefront of the flamenco guitar.
Immersed in recording his first solo album, he decided to join talents with the Jerez-based guitarist Alfredo Lagros, to create '12 strings' a concert of solo guitar that was recognized by specialized critics as the best concert flamenco guitar year 2011 show that was presented on stage at important international festivals such as the National Auditorium of Music in Madrid, Teatro Central in Seville, Jerez Festival, National Theatre of Hanoi National Auditorium-Vietnam-Filipinas-Manila and Bangkok II Guitar Festival, among others. After accumulated experience and learning in their own studio and on recordings with Isidro Sanlucar decides to take the final step and produce his first solo album. A debut in which he collected and recorded compositions performed during the preceding nine years, making good use of their intelligence, sensitivity and talent, giving an overall sense to finish a work that is gathering him unanimous praise from critics and audiences, which is even more important for them and for fellow guitarists. This is happening at a particularly sweet moment of his career, which has just been chosen for the Giraldillo del Toque award of the XVII Bienal de Flamenco de Sevilla.
With Dani de Moron, the guitar playing of Moron rises to a stage where technique and harmony play such an important role like the rudimentary bare string touch and the abundant use of the thumb on the bass strings.
CD/DVD