Dani Vargas
Guitar
Chile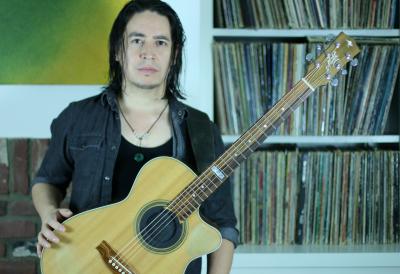 Biography
Dani Vargas was born and raised in Santiago, Chile by artistic and musical parents.  Influenced and inspired by the art and music present at home, Dani began playing the guitar at the age of 16.  He embraced the guitar with passion and decided to move to the U.S. to further pursue his musical endeavors.  After relocating to Houston, TX, Dani began teaching private lessons at several schools and guitar shops. 
While teaching and refining his tone and technique, he recorded and toured with the progressive metal band 'Magistral'. In 2009 Dani began to explore acoustic finger style music  that would later result into the acoustic project 'Aerial Visions'.  In 2011 he embarked upon a solo career with the instrumental trio 'The Dani Vargas Group' and released two EP's, followed by the full length album 'Sound On Canvas'. 
With the desire to expand creatively, Dani began singing and writing riff inspired rock songs for the project 'Thou Shall Doubt'.  Today Dani lives in Los Angeles, CA where he continues performing, recording as a solo acoustic player as well as an electric instrumentalist.
In January 2018 Dani released his first solo acoustic fingerstyle album entitled 'Love',  and he is currently getting ready to release by April 2019  a new acoustic record, in collaboration with multi-talented Violinist Jenna Colombet, as well an electric rock Ep with his band in March 2019.
Acoustic guitar
Electric guitar