David Jacob
Bass
France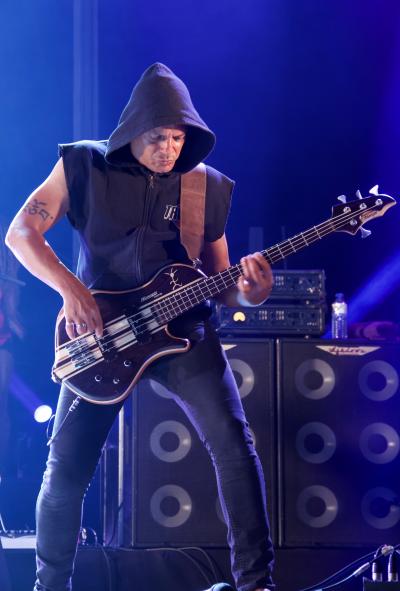 Biography
He entered the conservatory of Le Havre in 1975 to study music theory and trumpet and the conservatory of Rouen in 1981. He joined the French Navy for 3 years in 1984 as a radiotelegrapher and bugler. In January 1987, he decided to learn bass guitar at the Bolbec music school and at the same time worked as sound and light manager at the Juliobona Cultural Centre in Lillebonne. In 1988, he replaced his teacher as a bass teacher and joined various Normandy bands: Zmen and Metronome. The same year, he created a recording studio in Gruchet le Valasse. In 1990, he moved to Lunel where he stayed for two years before settling in Paris (where he founded the group P.Vibes) and then in Rouen.
In 1995, he auditioned to join the group Trust with whom he signed in March 1996.
In 2001, he left Trust for other musical experiences. He worked with Royal Bubble Orchestra, Nathali Loriot, Nathalie Cardone, Fred Blondin, Manu Lanvin, Ladel Mclinn, Ilene Barnes, La Grande Sophie in 2001, Geoffrey Oryema, Toumast, Chaek Sylla and Cyril Kapel.
He was also a demonstrator for Trace Elliott, Status, Fender Precision Bass, Ernie Ball4 and Elixir.
At the same time, he continued to set up recording studios and produce artists such as Chaek Sylla and Djamatik.
On 4 September 2015, he took part in the "Oggun Today" project at the UNESCO in Paris and played alongside Erick El Chamaco.
In 2016, he returned to the Trust group composed of the two founders: Norbert Krief and Bernie Bonvoisin, the other musicians being Christian Dupuy on drums and Ismalia Diop on rhythm guitar.
In 2018, he began classical double bass training at a Parisian regional conservatory while continuing to perform on stage with the group Trust.
He is also an official ambassador of the Audition Solidarité association.