DEMPSEY MOREL
Classical and electric guitar
France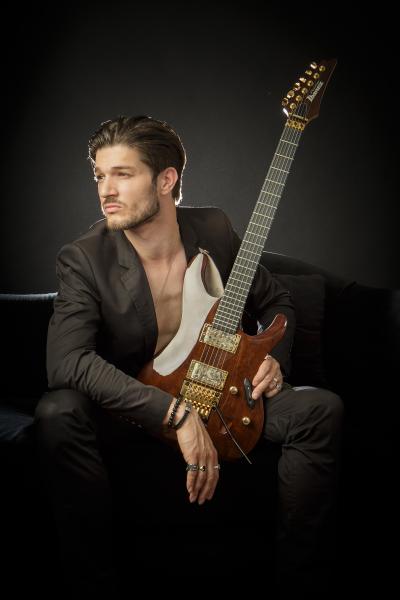 Biography
After three years of theory that allowed him to take his first steps in music, Dempsey began classical guitar at 13 and later the electric guitar at 14.
Meanwhile, for four years, he started a career in modeling and model for a fashion agency he left in 2006 to devote himself entirely to the guitar. He received his first Academy in music, having played 14 to 17 years with many local groups.
The following year, he obtained a hearing which took him a place to play at the Avignon Festival. He continued his musical training at the Geneva ETM from 2007 and made known to the regional public participating each Thursday in a radio program called Rockenfolie on Perrine FM.
A year later, he left the project and continues to record and play in multiple groups. The concerts multiply and Dempsey begins to make his first demonstrations all over France. In 2010, he met quite by accident in Saint-Etienne Michel Sardou's musicians who came to play in a project name "Talon Aiguille" orchestra which then makes the rounds of French cabarets. During the summer 2011, the manager of the Swiss singer Dania Gio ("Les anges de la télé réalité) contacts him to audition. Together they give several concerts and participated in several TV shows in Switzerland and Italy, as MusicOmax, a program on the TSR2.
In 2012, the website Guitariff recruits to create instructional videos filmed by a production. Sponsors such as the famous brand luggage storage Mono Cases, beginning therefore to be interested in him. The following year, Sound For Prod, a Paris-based creation of television jingles and advertising music, recruited him as a composer. A dream that allows him to assert his talent as a composer. Demonstrations continue in 2012 and he participates in the music fair in Frankfurt. That same year, he joined the jury of Springboard Festival International Guitar Scene in Saint Julien en Genevois. He will become the president the following year.
With his talented sidekick, Pierre Willimann, he created the group Charivari before summer 2013. The duo was a great success very quick by not performing fewer than 17 dates in less than two and a half months and now over 100 dates! Masterclass demonstrations and also succeed: masterclass for GuitarPart Magazine in 2014, the famous professor for interactive magazine Guitar Live demonstration at the Salon in Paris in 2015 Guitar.
Also in 2014, the American brand "Intex Cable" sponsors him.
In 2015, Dempsey gives additional direction to his musical career as a composer of film music.
 
Classical Guitar
Electric guitar