DUO EXAUDI
Classical Guitar
Belarus and Cuba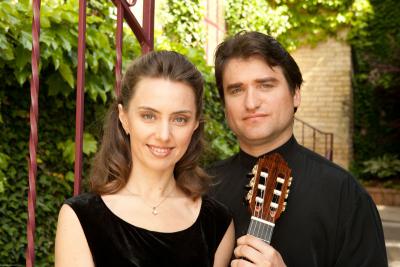 Biography
Belarusian guitarist Elina Chekan and Cuban guitarist Rene Izquierdo have been playing as a duo since 2012. The couple first met at Yale University when they were both pursuing post‐graduate degrees, studying with acclaimed professor Benjamin Verdery. Duo Exaudi was created out of the desire of both guitarists to join forces in their creative endeavors, and work towards increasing and exploring the guitar repertoire in this new medium.
As a duo they have performed in major concert venues in the United States, Russia and Europe to great critical acclaim. Both award winning artists, they are together a tour de force. Duo Exaudi's commitment to contemporary music and to the expansion of the guitar repertoire has led them to collaborations with composers such as Jorge Morel, Carlos Rafael Rivera, Colette Mourey, and Carl Schimmel. 
raised for their phrasing and musical sensitivity, Duo Exaudi's playing is technically superb, well balanced and exceptionally musical.