DUO PALISSANDRE
Classical guitars
France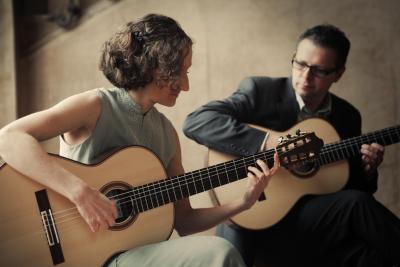 Biography
Formed in 1998 by two French guitarists, Vanessa Dartier and Yann Dufresne, the Duo Palissandre is one of the most fervent ambassadors of French repertoire for two guitars.
Finalists in international competitions in the FNAPEC, Île de Ré and Montelimar, they won the International Guitar Competition "José Azpiazu" in 2002 in San Sebastian and the UFAM in 2004 in Paris. Recognized and appreciated for their brilliant play and their musical sensitivity, the Duo Palissandre is invited to perform recitals in many cultural programs and international festivals in France and abroad: "Eastend Guitar Festival" in Tokyo-Japan Festival Guitar Paris, International Guitar Festival of Merignac Week plucked Caen Music Festival in Heart of the Medoc, Guitar Festival in Picardie, Music Festival in Périgord Vert, Cloister Concerts Festival, Music Festival in Héricourt, Musikhochschule Mondsee Austria, Germany Walkenried-festival.
The Duo Palissandre is involved in many projects in collaboration with other formations, in concertos by Vivaldi and Corigniani with the strings ensemble Villa Bohemia, in the nineteenth century program with piano fortiste Pierre Millot, guitar octet in creating "Les temps modernes" by Philippe Laval, for the "in C" by Terry Riley and Erik Baron all tune in trio with oboist Jean-Yves Gicquel or in the quartet "Ivoire & Palissandre "accompanied by the pianists DESNEULIN France and Guillaume Coppola. They released their first album "Reflets" in 2006, folk inspired music for two guitars for the Long Distance label distributed by Harmonia Mundi. In their second album "Dialogando" released in late 2010, Vanessa Dartier Yann Dufresne play a series of compositions, original works and transcriptions, which reflect much of the wealth of musical traditions of the past and present that to the ideal exchange between scholarly and popular languages.
The Duo Palissandre plays on the German maker of guitars Andreas Kirschner and is supported by the brand Savarez strings since 2006.
CD/DVD