DuotanGO
Classical Guitar
Italy / Argentina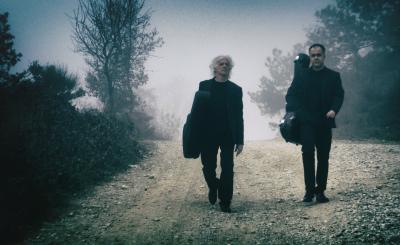 Biography
In the year 2012 at a French music festival, the Italian guitarist Giorgio Albiani met the Argentine guitarist Omar Cyrulnik. This was the moment in which DuotanGO was created, and from that very first meeting, a shared view of the research of sound and the general way of living the creative experience was immediately evident.
That is why DuotanGO isn't merely a guitar duo, but also a way of excersising the profession of musician and artist. The first musical project of the duo, connected to tango and Argentine folk music, was included in the program of the 2013 edition of the theatrical season at the "Oratorio del Gonfalone" in Rome and scheduled for the 14th of March 2013. On the 13th of March Cardinal Bergoglio ascended the papal throne and DuotanGO's concert becomes the first "Concert in honour of Pope Francis", while "Verdemar, la musica degli Italiani in Argentina " (music of Italians in Argentina), CD dedicated to the great Italian migration and to tango, is presented on Argentine television.
"Verdemar"'s main idea, is to relive the great cultural heritage of migration in the world and the enrichment and evolution produced by the acceptance and assimilation of cultural differences.
Beat Records published the CD.
On the 13th of March of the following year, on the first anniversary of the new Pope's ascent to the papal throne, once again at the "Oratorio del Gonfalone", the new project "DuotanGO y sus amigos" was performed, with Argentine music composed by authors of Italian origin. In this concert, the recently released CD "Verdemar, la musica degli italiani in Argentina", produced by the Roman record label Beat Records, was presented and given directly to the new Pope. At the beginning of 2015 DuotanGO started their second South-American tour, with concerts in the cities of Buenos Aires, Sierra de la Ventana, Monte Hermoso and Tornquist.
In little more than a year DuotanGO performed at: the Auditorium of the Académie Rainier III in the Principality of Monaco, the Auditorium of the Conservatorio Superior "Victoria Eugenia" in Granada (ES), the Contemporary Arts Centre in Perpignan (FR), the Teatro Magnolfi in Prato (IT), the Sala la Fenicie in Florence, the Real Academia de España in Rome (a concert recorded and broadcasted by Vatican Radio), the Auditorium Magnasco Gualeguaychú in Entre Rios (AR), the Teatro Español in Trenquelauquen (AR), the Argentine Library of Rosario (AR), the Italian Institute of Culture in Buenos Aires, the Municipal Library of Gral Villegas, the Municipal Theatre of Olavarría, the Auditorium Rivadavia in La Plata.
CD/DVD