Eddy Rabilloud
Classical Guitar 
France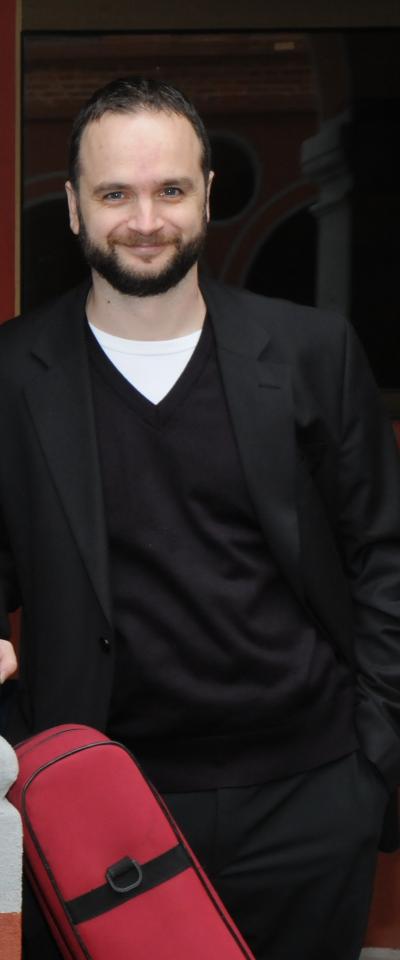 Biography
Born in 1974, he began his musical studies at the Music Conservatory of Givors in the class of François CASTET. He continued his studies at the National Conservatory of Bourgoin-jallieu and obtained two Diplomas in Music Studies, one in "classical guitar" and an other in "chamber music", and then he improved at the "Ecole Normale de Musique" of Paris in the class of Alberto Ponce where he obtained in 2004 the "Diploma of Execution".
 
Eddy Rabilloud is part of the Cordoba Quartet (created in 2003).
They regularly perform in concert at prestigious festivals: Tonkin International Guitar Festival in Villeurbanne, Tricastin International Guitar Biennale, Mosaic Guitar Festival in Strasbourg, Pilat Festival "Voice and Music", "Guitare Vallée" Festival in Saint Chamond, "Briscope" of Brignais. They often do the first parts of recognized artists like Judicaël Perroy in Aix en Provence and Jean Jacques Milteau in Tonkin.
They also had the privilege of playing with Ricardo Moyano (Great Argentine guitarist).
Eddy Rabilloud participated at the concert "Tribute to Léo Brouwer" as part of the international festival of guitar in tricastin. He met this immense musician in 2007 with the Cordoba Quartet at the Tricastin Biennale. Léo Brouwer emphasizes on this occasion a remarkable interpretation of one of his works for quartet, "Cuban Landscape with Rumba", performed that day by the Quatuor Cordoba (a disc is published in 2006 bringing together pieces by Jaime Cordoba, FM Torroba, P. Bellinati, R. Dyens, Bizet).
Album : Around the earth on 24 strings
 
Eddy Rabilloud created in 1998 the ensemble "Couleurs du Sud" (South colors) influenced by music of flamenco and jazz. Consisting of 2 guitars, a percussionist and a dancer. They perform everywhere in Fance and in many Festivals : Thiers, Saint Symphorien sur Coise, Grenoble, Bourgoin-jallieu, Tonkin Guitar Festival ...
In 2001 and 2015, they recorded an album.
 
Eddy RABILLOUD holds the Diplôme d'Etat of guitar professor and the Concours of assistant specialized of artistic education and teaches at the Conservatory in St Chamond.
CD/DVD