Eliott Weingand
Guitar
France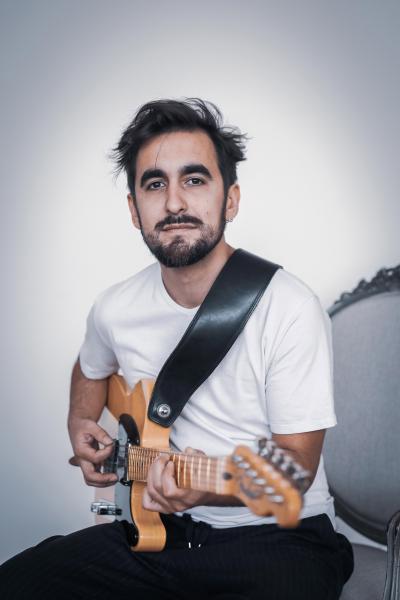 Biography
Coming from a family of musicians in Paris, he began by studying classical guitar and quickly turned to jazz and contemporary music, under the wing of renowned guitarists: Thierry Garcia, Joel Roulleau, Lucien Zerrad. Today his main influences come from funk, gospel and modern jazz musicians...
He has always kept a link with French chanson since childhood, occasionally accompanying artists such as Kent, Michael Jones, B.J. Scott, Philippe Lafontaine or Gilles Pauget; a musical affinity that was passed on to him by his mother, none other than the singer ENZO ENZO, with whom he is currently recording an album....
guitars / vocals planned for 2021.
A true all-rounder, he obtained diplomas in jazz guitar and classical writing in Lyon, and was also introduced to singing, tenor banjo, bass and MAO. It is also in Lyon that he met
of comrades in arms and with whom he still shares heartfelt projects today:
SUPA DUPA (Hip-Hop/Soul), winner of several competitions (Plein Feux, Musilac), thanks to which the project has performed alongside artists such as Orelsan, Lomepal, IAM or Deluxe. A second album is planned for 2021.
WAILING TREES, (Reggae) winner of the Rototom European Reggae Contest and programmed on European stages such as Rototom Sunsplash (Es), Summerjam (De), Reggae SunSka (fr) or Uprising Fest (Sk) to name but a few. The latest album, "Insert Sun", has already been released in March 2020.
Acoustic guitar
Classical Guitar