Eric Pénicaud
Classical Guitar
France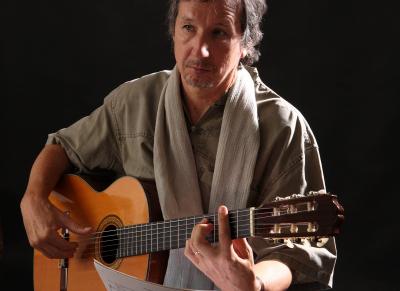 Biography
Éric Pénicaud began his musical training at 7, first with his father, then with friends (music-lover), teachers and concertos (for example between 11 and 13 years old, Narciso Yepes gave him his valuable advice). At the same time, he studied flamenco, but also jazz and improvisation. Éric initially gave many classical performances - and flamencas - in a private circle, but he now plays in public, in different kind of music (for example in jazz alongside Laurent Petitgirard at the organ at the American Center for Paris).
At the age of 19, he left the capital for Provence (improvement - instrument and writing - teaching). He improved with René Bartoli, then with Leo Brouwer, Abel Carlevaro, Javier Hinojosa, and Paco Peña Manolo Sanlucar for flamenco. Classical concerts (alone, and concertos for guitar), or organized flamencos - sometimes improvised - by Robert J. Vidal, in Arles, Castres. Later, other festivals in Provence, with Juan Carmona or the Chemirani' sons (oriental percussions). He will also improvise - sometimes on his own music - with jazzmen like Larry Coryell, Raphael Faÿs, Jaco Pastorius, Barre Phillips ...
This eclecticism acquired from childhood allows him to go in each kind of music and paradoxically leads him to focus on composition, for which he is guided by his uncle and composer Stéphane Caplain. He is also guided by the sea, the wind, the stars as Debussy and Ohana recommend: he has been sailing the Mediterranean Sea for years (later all the oceans in cargo). He gathers many "ethnic" music on the way, and he deepens the writing of ancient and modern masters (from Machaut to Stravinsky, Bartók, Messiaen, Ohana, etc.).
His work won 8 International Composing Awards from 1984 to 2002: Carrefour mondial de la guitare (Martinique, 1984, 1988), Tokyo (1987), Italy (1999, 2000, 2001, 2002). He received in 2016 the award of composition "International Art Society », Volos, Greece; won also the title of « Artist of the Year »: he's the unique musician recognized by this distinction (in all categories. For example, Martha Argerich was nominee for piano)... He cumulates today 10 awards for International Prizes. A work of homogeneity internationally recognized by many composers (Leo Brouwer, Régis Campo, Pascal Dusapin, Thierry Escaich, Philippe Fénelon, Philippe Hersant, Maurice Ohana ...), various great interpreters except guitar (flutist Pierre-Yves Artaud, percussionist Jean-Pierre Drouet, violists Garth Knox - former member of the Arditti Quartet and Ensemble Intercontemporain - and Pierre-Henri Xuereb, conductors Daniel Oren, Gilles Colliard ...), guitarists and pedagogues Julian Bream, Abel Carlevaro, Alberto Ponce, Narciso Yepes ...), eminent ambassadors of other music that he also practiced (Jaco Pastorius, Larry Coryell, Juan Carmona ...) but also poets (Christian Bobin), writers (Erik Orsenna), marine painters (Titouan Lamazou) and scientists (Boris Cyrulnik, Hubert Reeves).
Besides guitar, Éric Pénicaud has also written for about thirty instruments including piano, percussion, strings, flutes, voice, harp, clarinet, oboe, string quartet, various ensembles and many jazz instruments (keyboards, bass guitar, various saxophones, etc.) Et pour ensemble vocal également...
Éric Pénicaud's work is played by -to name only the most representative guitarists- Gérard Abiton, Roberto Aussel, Tania Chagnot, Arnaud Dumond, Roland Dyens, Eric Franceries, François Laurent, Sébastien Llinares, Olivier Pelmoine (duo Cordes et Âmes with Sara Chenal), Samuelito, Gaëlle Solal, Sébastien Vachez, duos like Guitar Duo Transatlantique (Benjamin Beirs, USA / Maud Laforest, France), guitars quartets (Quaternaglia Guitar Quartet (Brazil), guitars octet (Harmonique XII de Betho Davezac, etc.), Fabio Zanon (Brésil), Yiannis Andronoglou (Grèce), Ishiro Suzuki, Shin-Ichi Fukuda, Gen Matsuda (Japon), Marco Tamayo (Cuba), Giulio Tampalini, Alberto Vingiano (Italie), Tatiana Kurenchakova (Russie), etc...
Follow the link "Amis de la Musique Française" and at the top right, in the space -rechercher- type "Pénicaud"