EVA FAMPAS
Classical Guitar
Greece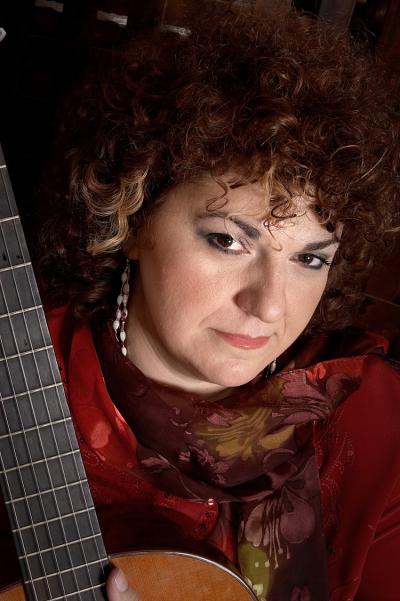 Biography
Described as "a great musical personality" (Morning Talk Newspaper), with "style and flair...amazing mastery" (Indian express) and a "very fine sound" (Pancevac cultura), "the most representative of the Greek guitar today" (Noticias-Paraguay), guitarist Eva Fampas is regarded as one of the world's most gifted artists, with performances noted for coupling deep musicality, passion and an exceptional virtuosity.
Eva has performed hundreds of recitals and concerts around the globe with great success, she maintains a very active concert schedule and she is in great demand as a recitalist, soloist, chamber musician and pedagogue. Newspapers, magazines, National and International TV and radio stations around the world have honored her accomplishments with portraits, interviews and extensive articles
Eva has performed extensively in more than 25 countries in Europe, Asia, America Latina and Africa. She has appeared in major International Guitar and Music Festivals including the Marble and Sound Festival (Serbia), Zory Guitar Festival (Poland), Iraklion Music Festival (Greece), Balkan Guitar Festival of Velingrad (Bulgaria), Belo Horizonte International (Brazil), China Guitar Festival, Stockholm Guitar Festival (Sweden), International Guitar Festival of Arequipa (Peru), Guitarra y Mujer (Paraguay), International Guitar festival of Kaluga (Russia), SIX WAYS (Italy) as well as in numerous radio and the TV programs.
She has appeared as a guitar soloist with the Symphony Orchestra of Russia (Dudarova), the Orquesta Sinfonica de la UAEH Mexico, the Bombay String Orchestra, the Iraklion String Orchestra, the Kalamaria Symphony Orchestra, the Athens State Orchestra string ensemble, the ARCO Moscow Chamber Orchestra, the Athens Municipality Symphony Orchestra, the Ars Music string quartet, the Arcadea strings.
On October 19, 2004 she premiered the FOR EVA guitar concerto by Yiu-Kwong Chung and theBaiao Lunar by Andersen Viana, two new works dedicated to her, with Athens State Orchestra conducted by Costis Papazoglou at the MELINA Athens' cultural center. On July 30, 2008 she premiered the orchestrated by Andersen Viana, GREEK SUITE (2 parts) by Dimitris Fampas with the Athens Municipality Symphony Orchestra conducted by Michalis Economou at the Byzantine Museum of Athens. This concert was repeated on October 26, 2008 at the Technopolis cultural centre of Athens due to the great success of the premiere and to audience's demand. Οn June 20, 2010 she performed with great success and with the same orchestra and maestro the complete work by D.Fampas with the addition of the 2 last parts orchestrated by N. Harizanos.
Lots of her artistic activities and concert tours have been sponsored by the Greek Ministry of Culture and the Greek Embassies.
CD/DVD