Fanou Torracinta
Guitare
France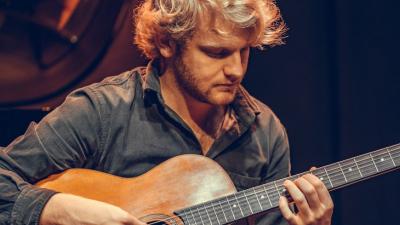 Biography
Originally from the island of beauty, Fanou Torracinta is a 26 year old jazz guitarist. From a very young age, he confronts the best musicians of the style, often passing through Corsica to play in summer festivals. He immersed himself in their games with fervor, discovered the gypsy sounds of Django Reinhardt's music. He dreams of imitating them.
In 2012 Fanou is on tour with Tchavolo Smchitt, a true legend of the gypsy style. This meeting will be decisive for him. He will see him again and will play with him at each of his participations in island festivals.
When he was seventeen years old, he created the Corsican Trio/Quartet with Arnaud Giacomoni, a young Corsican singer, William Brunard, double bass player and Bastien Ribot, violinist, two excellent musicians of the jazz and gypsy jazz scene. This group will perform on prestigious stages such as Jazz in Marciac, Les nuits de la guitare de Patrimonio etc.
Fanou Torracinta evolves today in the Parisian jazz and gypsy scene. He forms his new group in 2019 still with William Brunard and Benji Winterstein. The composition is more and more present in the guitarist who will release a new album in 2021 entitled "Gipsy guitar from Corsica". A rather personal repertoire making a link between his Corsican and Manouche influences.