Finn Elias Svit
Classical Guitar
Denmark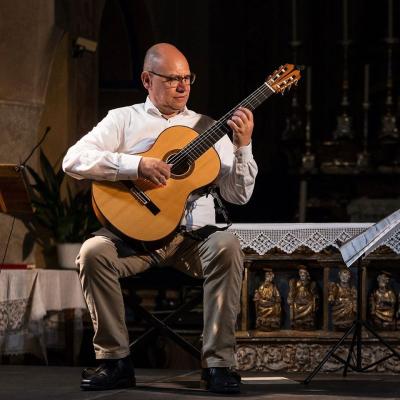 Biography
Finn Elias Svits repertiore contains music by composers like Bach, Barrios, Tarrega, Albeniz, Dowland, Turina, Villa-Lobos, Sanz, Sor, Giuliani, Brouwer and modern music by danish composers such as Ib Nørholm, Per Nørgaard, Mogens Christensen and Flemming Weis. 
Over the years Finn Elias Svit has played many a concert, in many a country arround Euroupe and in the USA. Next to a solo carrier Finn has had the pleasure to perform especialy together with the German violinist Jochen Brusch and in guitarduo with Prof. Bernard Hebb. But he has also done tours in guitarduo with Prof. Michael Tröster and with Petko Genkov from Bulgaria and been a part of chambermusic encembles, such as The Danish Guitarorchestra, Trio Excelsa and Trio Canconetta. Next to this Finn Elias Svit has been soloist with orchestras, done TV and Radio broadcarsts and CD recordings publised by Gega New, Classco and Trekel Records.  
In conection to the concert activities Finn has given marsterclasses, lectures, workshops, conducted guitar orchestras and been a jury member at many a guitarfestival arround Europe.