François Grégory 
Electric guitar
France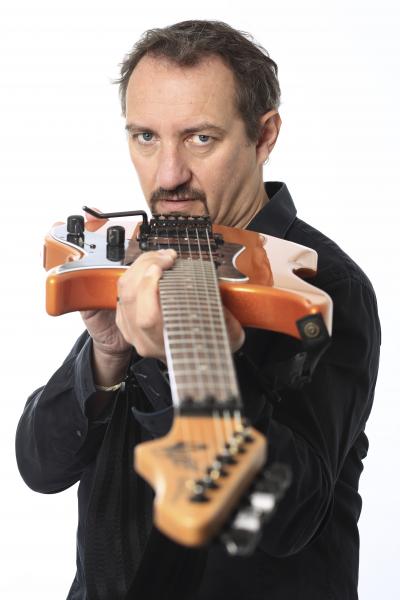 Biography
Coming from a family of musicians, Grégory François (alias GOWY) learns guitar by himself, picking up songs from the Beatles, Led Zeppelin, Van Halen, Steve Vai and Frank Zappa. 
A professional musician from the age of 19, he founded GOWY in 2005.
Quickly the band composes and releases an album "Essential Tracks" which will allow him to do many opening acts and to join the Mörglbl with Friends tour with Christophe GODIN.
In addition, studio guitarist Grégory François produces many albums as a producer and/or guitarist for other artists.
Following his participation to the Vigier Day with GOWY in 2012, he signed an endorsement contract with the excellent French guitar brand Vigier and then Two-notes. Guitar-Pro is also interested in GOWY.
Grégory François is also endorsed for the BDCustom amps and acoustic guitars Benoit-de-Bretagne who makes him a custom 7-string "grand auditorium" model.
In 2013, GOWY releases an EP recorded "One Take" in studio and sets up a crowdfunding campaign to finance a new album. His public plays the game and "ATOMS" is released in 2016. 
The album will allow GOWY to open for Nina ATTAL and then to be the winner of the Tritonales with the unanimous agreement of the listening committee. In 2017, the group presents its album "ATOMS" at the Triton aux Lilas, a mythical Parisian venue.
After miles of worn-out strings, Grégory FRANCOIS settles down to work on the third album.
In 2020 "Music Without Money" is released on Kredibl's Records, it is distributed by Absilone/Socadisc. The album is available on the band's website as well as on all streaming platforms.
CD/DVD
GOWY
Essential Tracks - (2007) Si - (2010)
EP 2013 - (2013)
Atoms - (2016)
Free EP - (2017)
Live Tourcoing jazz festival - (2019)
Music Without Money - (2020)
COLLABORATIONS
Pierre Julien - Passent t'elles - (2012) 
Pierre Julien - Mi Fugue mi raison - (2016) 
Guitar Addiction - (2012)
COMPILATIONS
S.O.S Orphelinat du monde - (2012)
Boulrock - (2007)
Happy Christmas - (2005) 
Intramurock IV - (1996)
Intramurock II - (1992) 
Pharaos Guitare - (1990) 
Since 2017, Grégory François has been teaching guitar at the music school in Le Touquet.