FRANCESCO BIRAGHI
Classical guitar,
Italy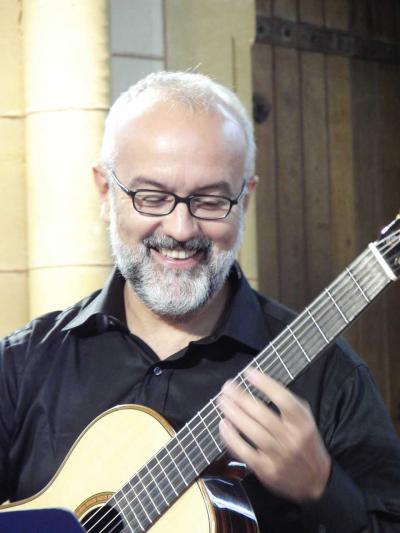 Biography
Francesco Biraghi started his music studies with Antonio Barbieri and finished them at Giuseppe Verdi Conservatory in Milan, supervised by Ruggero Chiesa. Then he took classes with Oscar Ghiglia and, for the antic repertoire, with Hopkinson Smith. Before he had finished his studies, he began an intense career as soloist in chamber music formations, which has taken him to perform in fifty countries. In every place the audiences agreed with his talent.  Meanwhile, he recorded radio and TV shows and hold seminars and conferences on guitar and chamber music in great institutions abroad.
Since 1986, he is the main partner of the Il Fronimo magazine and appears on TV for introductions of music programs of the Italian chanel Classica on Sky TV's frequencies. His eloquence allows him to present music events. He taught summer interpretation classes and he's often invited to be jury for prestigious guitar competitions.
He has released about 12 albums well received by the audience and the critics.
He currently plays the "Classico Terzetto Italiano" (flute, violin or alto and guitar) and with the "Talete Duo" in guitar duo with the Italian guitarist Sara Collodel. Besides, he teaches guitar at Giuseppe Verdi Conservatory in Milan.
CD/DVD
CD Francesco Biraghi Recital soliste (musique de Paganini, Mertz, Ponce, Villa Lobos) Foné 1993
CD MERTZ, musique de J.K.Mertz ( Bardenklaenge op.13) – Colloquia 1995
CD Homenaje à Federico (dédié a Federico Garcia Lorca) – Il Manifesto 1997
CD Maratona Paganiniana – CD (Live) ANB 2000
CD Trio Claude Pierray (musique contemporaine pour violon, cello et guitare) – CD AOC 1998
CD GAUDE, musique de Theodor W. Gaude – Colloquia 2001
CD Kreutzer, Classico Terzetto Italiano, Trios op.9 de Joseph Kreutzer – Ducale 2008
CD Viaggio a Colori, violon et guitare, avec Tania Camargo Guarnieri, violon – CD Guitart 2009
CD Sette Sonate Barocche, Tania Camargo Guarnieri, violon – CD (Live) La Finestra sul Lago 2009
CD Carulli, Classico Terzetto Italiano, Trios de Ferdinando Carulli – Ducale 2011
CD Biedermeier, Classico Terzetto Italiano, Trios de Weigl, Matiegka, Küffner – CD Musica Viva 2016
CD Duo Talete, musique de Telemann, Sor, Mertz, Granados - CD La Finestra sul Lago 2016