FRED CHAPELLIER
Electric guitar
France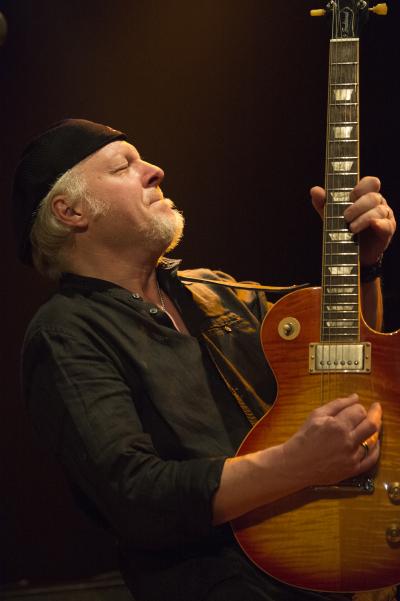 Biography
In 1983, Fred Chapellier tries various musical styles but always returns to what he calls the base: "The Blues"!
In the early '90s he formed his first blues band "Kashmir", with which he will perform during 4 years. In 1999, he decided to leave on his side to form his ultimate band: "Fred Chapellier Blues Band".
He will record two albums "Blues Devil" in 2003 and "the eye of the blues" in 2005. Critics are more than positive, so much so that in 2004, on the occasion of the "France Blues Trophies" Fred will be named "revelation blues" and "best guitarist" of the year.
He has, to date, participated in many other albums as a musician, arranger or producer.
In 2007, Fred pays tribute to his guitarist Roy Buchanan on the album "Fred Chapellier & Friends - A Tribute To Roy Buchanan". Billy Price (Singer of Roy Buchanan's band from 1972 to 1976) was agreed to sing on the album. The two men then decide to play together on stage, in November 2007, then in April and July 2008, in France but also in June and September 2008 in the United States. They record together the album "Night Work" in 2009, which will be at the top of the charts in the USA. Then they get on with the Live On Stage Live CD cd / dvd (2010)
He joins Jacques Dutronc on tour in 2010.
2011 is the year of collaborations. Fred shares the stage with his friends Neal Black and Nico Wayne Toussaint for a series of concerts. This project is called BTC Blues Revue (BTC for Black / Toussaint / Chapellier). The same year, Fred and his friend Tom Principato (famous guitarist of Washington DC) meet for a tour of 15 dates and take advantage of it to record a live album entitled "Guitars on fire" released only in the United States at Powerhouse Records.
In February 2012, Fred go to Memphis where he represents France at the International Blues Challenge. He will go to the semi-finals and will be interviewed by Laurent Delahousse on France 2 for a 25-minute report broadcast on the program at 1:15 pm.
FRED releases its brand new album "Electric Fingers" in 2012.
November 2014, Fred participates in Vieilles Canailles with Dutronc, Hallyday and Mitchell, for 6 evenings in Bercy.
April 2016 marks the release of the last studio album under the name Fred Chapellier, entitled "It never comes easy".
Since 2015, Fred has appeared in a quartet and pays homage to the music of Peter Green, the founder of FLEETWOOD MAC.
In June-July 2017, Fred goes on tour for 17 concerts with Les Vieilles Canailles (Hallyday, Mitchell and Dutronc).
In parallel with his quartet, Fred is also perform with American singer Dale Blade (Louisiana USA).This new band, titled FRED CHAPELLIER AND THE GENTS FEATURING DALE BLADE, began performing live in April 2017 and has just released their first album called SET ME FREE (Dixiefrog Records).Fred and Dale are already working on their second joint album to be released in 2019.
At the same time, Fred is about to release his live album "Fred Chapellier plays Peter Green", at Dixiefrog records. Official release, October 19, 2018.