Gaëlle Solal
Classical Guitar
France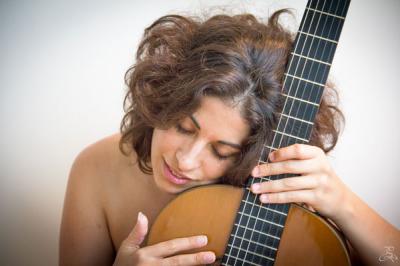 Biography
"A great emotion that you are not ready to forget!" (La Marseillaise).
Classical guitarist but not only that ... Gaëlle Solal is a musical UFO that breaks the conventions and create enthusiasm wherever she plays.
Her career is very classical though: 3 gold medals at the Conservatory of his hometown, Marseilles, a 1st prize at the National Superior Conservatory of Paris, several international competitions (1st prize of Alessandria, Savona, Sernanchele, 2nd prize of the GFA in the USA and finalist of the artist guild concert in New York). She is supported by major sponsors (BNP Paribas foundation, Société Générale sponsoring, Meyer and Contestabile foundations). And she did a lot of tours around the world: more than 35 countries including many tours in the USA and Japan.
After she met Brazilian musicians at the Villa Lobos Festival in Paris, she went to Rio in 2009 and this short trip will change everything. She left her position as full professor at the Conservatoire Superieure of Seville and invest herself in a huge artistic approach by following improvisational theater, circus (beatbox, clown, improvisation, juggling, mime, object theater, physical theater), contemporary dance, tap dancing, jazz and world music.
Her researches and experimentations resulted of 3 projects: Açaï / une guitare au Brazil (2010), the project Sol * (2011) between classical and popular music and a musical theater show scheduled for June 2017: Crazy Nails with the complicity of Boris Gaquere.
Regularly, Gaëlle Solal gives masterclasses and courses to share her know-how with young musicians. She recorded a first corpus of technical exercises for the guitar on line in French thanks to the magazine Guitare Classique. A vast corpus is being prepared. She has also prepared many students for national and international competitions. Finally, Gaëlle Solal offers trainings for trainers and music teachers with a focus on stage presence and ensemble music. She has just completed a training as a teacher trainer at the League of Education.
Gaëlle plays alternately on guitars Daniel Friederich, Manuel Contreras and Jean-Luc Joie with the strings Savarez Cantiga.
CD/DVD