Gerald Moizan
Guitar
France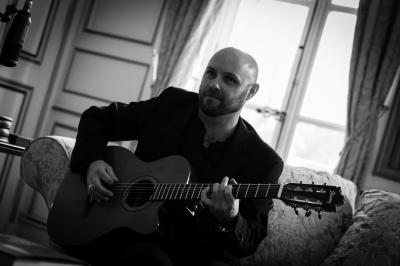 Biography
Gerald Moizan, in his thirties and with his guitar slung over his shoulder, was raised on a bottle of rock, real, heavy music.
His influences are rich. He listens to Led Zep', Hendrix, but also the Red Hot, Aerosmith. Then the trash enters his ears with Machine Head, Nail Bomb or Sepultura ...
An encounter and his musical life takes a turn. At the age of 15 he discovered Joe Satriani, Steve Vai, Patrick Rondat ...
His journey continues in the musical universe. He is a sound technician and works for touring artists such as (Ange, Uroy, Israel Vibration, Les Tetes Raides ...).
Later, he set up his own production company (gm prod) and produced concerts in Touraine (Black Pearl, Tryogenic, Walking The Dead, Tranziztor, Juke Joint, Steel in mind ...)
At the same time, he plays in several bands and participates in albums and concerts (Black Pearl, KonarTeam, JB Tatoo ...).
In 2011 he releases his first solo album and joins the Peavey 2011 tour with Patrick Rondat and Pascal Vigne. Following the success of these dates, a new tour is on the way in September/October 2012.
A new album is in preparation and will be released in 2016 with a tour !
Then under his name, he plays a lot of dates in his region and gives more than a hundred concerts since 2007.
Festival Zone Avoine Blues (Bertignac, Ben L'Oncle Soul, Jacques Dutronc) 2011 Chinen Guitar Festival (Yepa, Raphael Fays, Las Vargas) 2011
Jack's Gang Festival 2010 & 2011
Lezartistic Festival 2010
But also many concerts and interviews ...
Tv Tours
Radio Beton
Active Radio
Redio Radiation
Radio Arverne
Radio France Bleu
GuitarExtreme Magazine
Acoustic guitar
Classical Guitar
Electric guitar