GIANLUCA MARTINO
Electric, acoustic and classical guitar 
Italy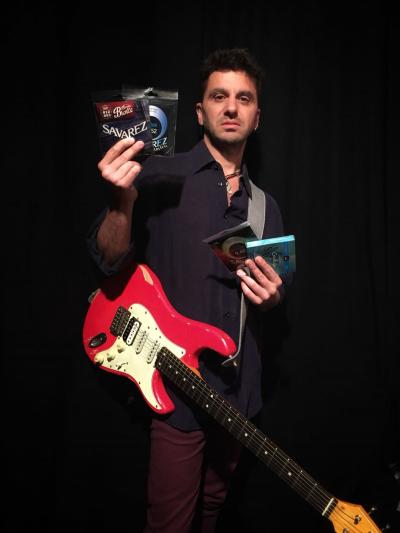 Biography
Gianluca Martino is a Milanese electric and acoustic guitarist, born in Cosenza on 1969.
He's a teacher of acoustic and electric guitar since 1988 in several prestigious music academies in Milan and in North Italy. By September 2017 he became headteacher of TML The Music Lab in Milan.
Gianluca does studio sessions with many music producers such as: Vince Tempera, Lucio Fabbri, Flavio Premoli, Valeriano Chiaravalle, Rossano Eleuteri, Mario Natale, Pino Nicolosi, Chicco Santulli, Silvio Amato, Luca Orioli, Marco Zangirolami.
Since 2003, he's the official guitarist of the band Rockets.
His live and studio activity is intense, in Italy and abroad. As a session musician he had great experiences in live shows and in studio with big Italian and international pop rock artists : Percy Sladge, Loredana Bertè, Rockets, Marcella Bella, Alessandro Canino, Santa Esmeralda, Boney M, Albano, Marco Ferradini, Novecento, Fratelli La Bionda, Memo Remigi, Rosana Arbelo, Luisa Corna , Mariadele, Enzo Canelli.
He recorded several soundtracks and jingles for Mediaset and RAI.
Gianluca Martino also had great experiences with orchestras on numerous television productions (RAI, Mediaset, La7): Meteore, Strada Facendo, Io Canto, Passaparola, Mettiamoci all'opera, Sembra Ieri, Testarda Io, Ragazzi Irresistibili, Canzoni sotto l'albero, Scherzi a parte, Crozza Italia, Italialand, Saturday Night Live, Match Music, Pop Star, Festa della Musica (RTL), Festival Bar, and so on.
He has a column in the famous Italian magazine Guitar Club and one on the monthly online Almax Magazine.    
Acoustic guitar
Acoustic guitar 12 strings
Classical Guitar
Electric guitar