Gilles Rézard
Banjo
France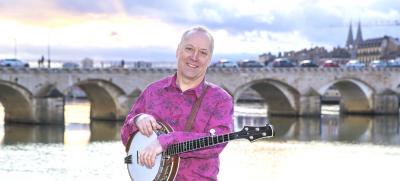 Biography
Gilles Rézard takes classical guitar lessons at the Ecole Normale de Musique de Paris, and Musicology at the Sorbonne. Self-taught for banjo, mandolin and bluegrass guitar, he took some banjo lessons in the USA with Tony Trischka and Bill Keith. Back in France he recorded in 1994 : "Wood, Metal and Skin", a self-produced CD which will be distributed in Europe and in the USA.
Important bands :
La Récré, First Aid, Opus 2, Acoustic Boulevard, Zipcode 2025, Banjomaniacs, Saga Trio.
Gilles Rézard fell in love with the banjo at the age of 17. He has recorded and played internationally with many bands, and produced 2 CDs: "Wood, Metal and Skin" and "Brocéliande". Hundreds of students in France, Switzerland, Belgium and the United States contribute to his solid reputation as a teacher. To improve connections between bluegrass musicians, he created a map that locates everyone who signs up by contacting him by email.
His recent Bluegrass Banjo Jam learning formula has been a great success.
Teaching :
2019: creation of the Bluegrass Banjo Jam formula.
Since 2016: creation of the Bluegrass Channel on YouTube and the Bluegrass School.
2015: asked by Pete Wernick to teach bluegrass in the United States.
2013: obtains the "Full Certification" (the first in Europe) to teach bluegrass with the Wernick Method.
2010 : creation of the Bluegrass Nature course.
2010-2020 : teaches at the ETM, Geneva (CH) : banjo, guitar and bluegrass mandolin.