HENRI DORINA
Bass guitar,
France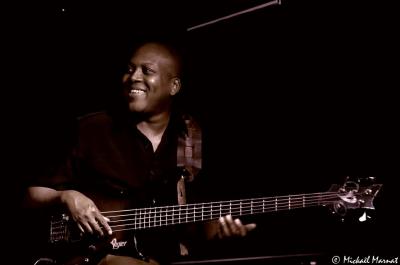 Biography
Henri Dorina started playing the clarinet at the age of 12. In the same time, he was also developing a taste for guitar. He finally adopted bass guitar when he was 18. He started playing double bass in 2015, after some artists' requests.
His professional career began around 1982 in Parisian night clubs where he's got himself noticed. Since then, he collaborates and joins various artists among: Bill Deraime, Peter Kingsbery (Cock Robin), Martha Reeves & The Vandellas, Native, Teri Moïse, Frank Mc Comb, Nicolas Peyrac, David Koven and Marc Lavoine.
As well as concerts he has appeared on TV shows (Taratata, Champs Elysées). He stands out from the crowd also thanks to his music influences (African and North African music, West Indian, Latin, Funk and Blues).
Here are some world music musicians with whom he has worked: Rido Bayonne (Congo), Manu Dibango (Cameroon), So Kalméry (Congo), Paco Séry (Côte d'Ivoire), Amar Sundy (Algeria), Souad Massi (Algeria), Eddy C. Campbell (USA), Woz Kaly (Sénégal) and Mokhtar Samba (Senegal/Morocco) with whom he also plays with WDR of Cologne, Germany.
In Jazz/fusion and Jazz/Brazilian he works with: Eric Le Lann (France), Romane (Jazz Manouche-France), Catia Werneck (Brazil), Renaud Louis-Servais (France).
He took part of several musicals like 'Je m'voyais déjà' of Laurent Ruquier on Diane Tell and Charles Aznavour's songs, 'Irma la Douce' with Lorant Deutsch and Nicole Croisille, 'Une saison au Congo' and 'La tragédie du roi Christophe' of Aimé Césaire staged by Christian Schiaretti.