IVAN ROUGNY
Electric guitar,
France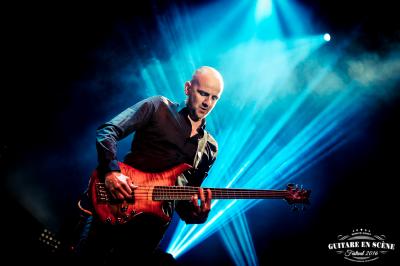 Biography
Born in France in 1970, Ivan started bass when he was 16 years old. At first he was very influenced by English pop and Soul / funk from the 70's, but also by jazz rock and World Music. He quickly appeared in regional concert halls with projects of all kinds.
Since 1997, he's the bass player of MÖRGLBL (Prog / Jazz / Metal), with Christophe Godin (Guitar) and Aurélien Ouzoulias (Drums), he turns all around the world with this band.. their sixth album (Tea Time for Pünks / Lasers Edge Group) was released in the spring of 2015. Mörglbl celebrated its 20th anniversary in 2017, including an international tour that ended with the recording of a live DVD. the band's next and seventh album will be released before the end of 2018.
Ivan also directed a solo project "Nervous Breakdown" (May 2014).
Currently, he also works with Stacey King (Pop Singer / France), Charlie Morris Band (Blues / USA), Ananda Gospel (Gospel / France), Doctor B's Groove Cabinet (Funk New Orleans / Switzerland). Here are some other artists / bands with whom he collaborated for album and tour projects: Spencer Bohren (Blues / USA) Christophe Godin (for the "Metal Kartoon" project), Jeremy Tordjman (Afro / Jazz Funk), Kara (Senegalese Singer), Jean Fontanille (Guitarist / Instrumental Metal), Psyko (Pop Rock), Cheb Bilal (Rai) in Europe and North Africa, collaborated with Cyril Achard (guitar) and Mike Terrana for the project "Taboo Voodoo" (Prog-Metal) ... etc.
Bass teacher at the ETM school in Geneva, he is also asked for Masters Classes and other clinics especially for and with his sponsors: VIGIER GUITARS, SAVAREZ, LANEY AMPS, ZOOM.
CD/DVD