Jérôme Ciosi
Classical guitar
France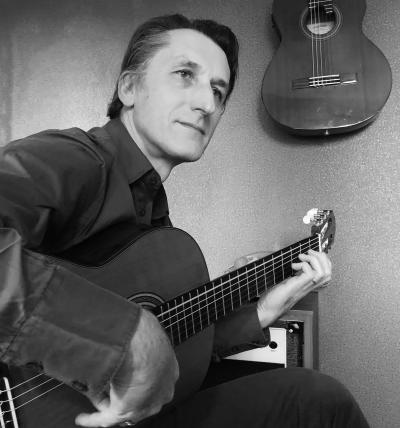 Biography
Jérôme Ciosi was born in 1970. After studying classical guitar and harmony at the conservatory, he became interested in other types of music: bossa nova, gypsy jazz and Corsican music, through his father, the singer Antoine Ciosi.
Jérôme also arranges for guitar many traditional Corsican songs, published on disc by Ricordu and on score by Lemoine and Universal Music Publishing, and participates in several groups and musical formations on the island.
In 1996, he met Thomas Dutronc, with whom he developed a collaboration that has been renewed to this day. Jérôme Ciosi will always be present alongside the singer-guitarist, on tours and recordings, as a musician and composer of several songs.
He also collaborates with several artists, such as Juliette Gréco, Patrick Fiori, Françoise Hardy, etc...
In 2019, he will be the artistic director and arranger of Duetti, a double album by Antoine Ciosi alongside the best island artists.