Jérôme Sousa
Acoustic guitar
France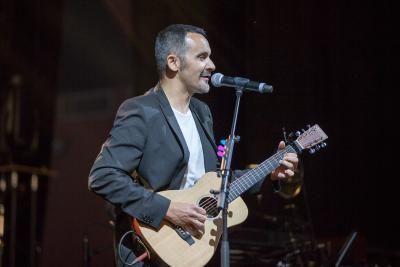 Biography
Jerome Sousa is a French songwriter and composer from ST Vulbas, in the Rhône Alpes region.
He composes in a French pop/rock style, with blues and sometimes reggae accents, and his influences range from "De Palmas", "Ben Harper", "John Butler", "Tracy Chapman", to "Goldman", "Cabrel", and more recently "Ed Sheeran".
His songs always give pride of place to guitars of all types, of which he is passionate... (he started playing guitar at the age of 10).
He performs on many stages, and has opened for Michael Jones (with whom he shares a duet and a video clip "i will be free") A decisive encounter! He also opened for Hugues Aufray ,Maxime Leforestier, Frero Delavega, Olivia ruiz, Johnny Hallyday, Les Vieilles Canailles and Calogero as part of the festival: "Le Printemps de Pérouges
An album produced thanks to the participatory site "my major company" is available: "La Promesse"... (Fred Alfonsi and Christophe Bosch, musicians of Michael Jones participate in this album as well as Michael)
On stage, he performs alone with several guitars and a looper! He has just released "Carpe Diem" and "Ma muse" 2 new singles as well as their clips available on "you tube" and is currently preparing a new album ...Release planned in 2020.
His texts in French are based on everyday life, his encounters, the stories of the people around him, current events and are often oriented towards the positive.
Acoustic guitar
Electric guitar