Jean Louis Nietto
Guitar
France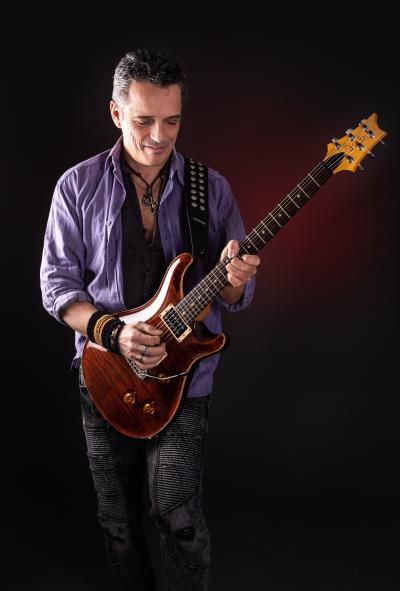 Biography
Born in 1963 in Paris region and quickly settled in  Lyon area, Jean Louis Nietto will be able to forge his fingers on his first guitar at the age of 9 and soon melodies like those of the Beatles become familiar to him. Musician at heart, his first group, "Dedication", and his first appearances on stage allow him to polish his first musical weapons. It therefore reinforce his idea that music is his main friend. The visits in the Houses of Youth and Culture, the Festivals and the Music Festivals are completed by his own musical compositions.
He becomes famous when he meets with many artists and when he participated to the first part of the RMC radio tours (with groups like Image and Forbans in particular) and of course his friend Michael Jones, he even adds studio recordings, models and even an album in his address book. He has always drawn his inspiration from: Led Zeppelin, Toto, Queen.
His philosophy of life is that music is complemented by the desire to share his passion and especially to discover it by teaching.
Attending  the Conservatoire de Besançon (diploma of Harmony and solfège) gives him the opportunity to be able to teach music.
In 2005, he spent a year at the Music Academy International in Nancy where he will confront such big names as Jean-Claude Rapin and Yannick Robert with whom he will remain more than friends.
He has generously developed his devouring passion for 30 years in different music schools. "Teaching music to motivated people attracts me," he likes to say.
The organization of "Master Class", places where professionals come to advise amateurs and festivals are also his passions, which allows him to stay in touch with the music community.
Rock and of course Blues remain his main musical influences.
Classical Guitar
Electric guitar