Jean-Luc Pagni
Bass player
France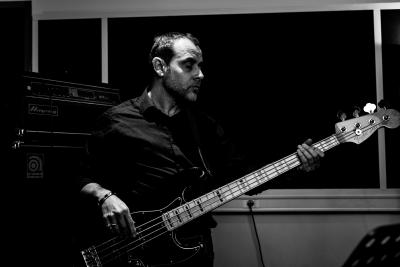 Biography
Conductor, arranger, musical director..., Jean-Luc Pagni is one of all the great artistic adventures. After 15 years in Jérôme Savary's company and a career strewn with remarkable and remarkable creations (" La résistible ascension d'Arturo Hui ", " La veuve joyeuse ", " Le retour du grand Magic Circus ", " Mistinguette ", "La vie Parisienne"...), he participates in many shows and projects (" Piaf je t'aime ", " Fame ", " Tribute Phil Collins/Lenny Kravitz ", " Roméo et Juliette ", " Paris-Broadway ", " Irma la douce ", etc.)
He has accompanied artists such as Fabienne Thibault, Sylvie Joly, Shirley and Dino, and the legendary Marcel Azzola... Not to mention the collaborations with Nicolas Briançon, the supreme reference to the theatre.
Multi-instrumentalist, Jean-Luc Pagni continues in parallel to the theatre his own creations (La Bomba, Swing it Orient Project, Magic Day Orchestra, Prestige Brass Band...).
He is also the bassist of Renaud Louis-Servais' brand new project "50 Plugged Guitars".
Jean-Luc Pagni is currently the musical director and conductor of the show "L'Idole des Jeunes" which will be performed from 18 December 2019 at the Casino de Paris.