Jean-Marc Delon
Banjo
France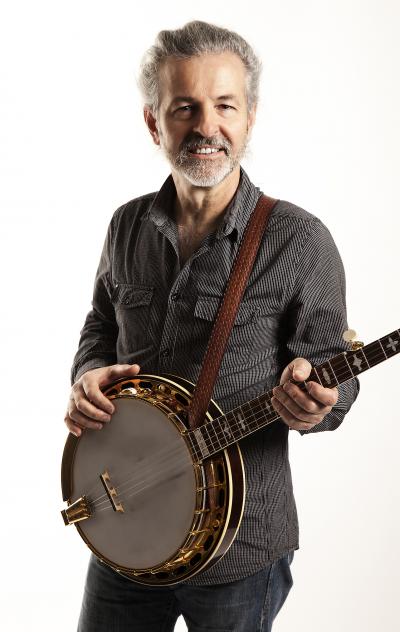 Biography
Jean-Marc Delon has been playing the 5-string banjo since 1976. At that time no teacher, no tutorials on Youtube, you have to manage to decipher the banjo solos on the rare bluegrass records available in France!
In 1977 he creates with his brother and two friends the group Bluegrass 43 with which he records a 33 rpm in 1985 ("The Old, Old Truck") and a CD in Nashville (USA) in 1988 ("Country & Swing"). This band won the first prize at the Toulouse Bluegrass Festival in 1983, and toured 5 times in the USA. In 2011 their CD The Witch will be released, Bluegrass 43 is today the oldest French bluegrass band still active.
In September 1981, Jean-Marc won the title of "Southwest Banjo Champion" (first prize banjo) at the "Kerrville Bluegrass Festival" in Texas, (USA).
In 1993, with two friends, he created the Cactus Pickers trio (country and bluegrass) with whom he recorded "Aïe, Aïe, Aïe !" and "Hola Tornado !
In 1994 he creates the "Sky Road" orchestra (Irish music) with which he records "Delireland", "Irish View", and "A Pinch Of Salt".
In 2000 he created the "Turquoise" (bluegrass) orchestra, with which he recorded "Something That We Do". This group was selected by the International Bluegrass Music Association to play at the International Bluegrass Convention in Nashville (USA) in 2005.
In 2007 he joined the Banjomaniacs with whom he created a musical comedy show called "Claptrio".
He has accompanied various American artists on tour and in concert: Kathy Chiavola, Pam Gadd, George Hamilton V, Tim O'Brien, in France, Switzerland, Belgium, Scotland, Wales.
Between 2012 and 2017 he is the banjoist of the singer Sanseverino, with whom he records two CDs of original bluegrass-style songs in French, and goes on two long tours (around 200 concerts in France and Europe). He regularly leads banjo and guitar workshops.