JEAN MICHEL PANUNZIO
Classical, acoustic and electric guitar
France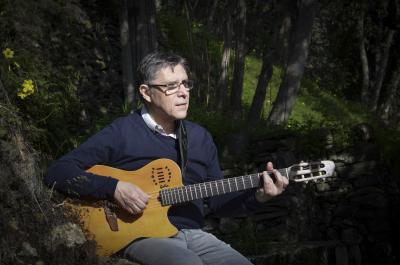 Biography
Guitar passionate since he's a kid, he quickly joined great Corsican artists on stage and studio (Charles Rocchi, Antoine Ciosi, Rudo Cardi, Yana Ricci, Tony Toga, Michel Orso and more recently Henri Olmeta, Jacques Culioli, le groupe Arapa etc.
In the same time he learned music theory on his own. Once arrived in Paris, he continued studying music theory and harmony at Paris International Conservatory where he got a first prize. He also took time to perfectionate with Philippe Jouannot.
He first has been asked to play with the accordionist Bruno Lorenzoni with whom he did numerous concerts and took part in his albums. This meet led him to play with other accordionists like Marcel Azzola, Yvette Horner and Joss Baselli, including on their albums.
As he showed in different Parisian cabarets he met Roberto Alagna he joined at his debut and several times during the past years (Puteaux and Festival de la Musique in Erbalunga - Corsica).
He was the guitarist of Nana Mouskouri, Juliette Greco, Enrico Macias, Djamel Allam, Jean Claude Borelly … on French and international tours. He also has been a studio guitarist on various singers recordings. 
At Patrimonio Festival, he had the chance to do a jam with Al Di Meola.
He composed about fifty songs (produced by Koka Media). "Pulcinella" was chosen by the Argentinian movie "El Hijio della Novia" nominated for Oscars in 2001; "la Mazurka bastiaise" was chosen for the American TV show "Curb your Enthusiasm" and other songs have been chosen for commercials. 
Jean-Michel Panunzio has teached guitar at Puteaux's Conservatory.
He came back in Corsica in 2011, where he created with some friends the band "Tra Noï": Antoine Giafferi at voice, Philippe Cherubini at rhythmic guitar and Jean-Michel at guitar and mandolin. The band has just recorded its album "Riflessione" for which he made arrangements and plays solo guitar and mandolin parts.
Acoustic guitar
Classical Guitar
Electric guitar