Jenna Colombet
Violin
France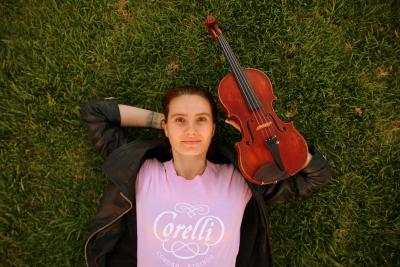 Biography
Jenna Colombet is a French Artist, Violinist, Music Composer and Educator based in Los Angeles, CA.
She began to play the violin at the age of six at the National School of Music of Villeurbanne, the Conservatoire of Lyon and Annecy, and later studied at the Lumière Lyon II University.
From an early age, Jenna has been an active performer, while collaborating in writing and recording with musicians in Europe, as she completed her studies at CFMI of Orsay in 2009.
Although she is classically trained, Jenna's playing and compositions gather influences from all over including Jazz, Gypsy Jazz, Electronic, R&B, Funk, Rock, Metal and more. Which as result, drawing from the diverse stylistic approaches, Jenna is able to bring a unique take to the modern acoustic Violin sound.
In 2015 Jenna relocated to California, as a music teacher at the Lycée International of Los Angeles (LILA).
The work with her album debut 'Vasilisa' introduces compositions demonstrating technical proficiency, canorous melodies, and harmonic maturity. The feel is often dark and introspective, yet uplifting, by virtue of the beauty and honesty that so naturally accompany the acoustic Violin.
She is currently writing and recording her second album to be released in the spring of 2019, and actively performing in the United States as a solo instrumentalist as well as a session musician in Hollywood, CA