Jessie Lee
Guitar
France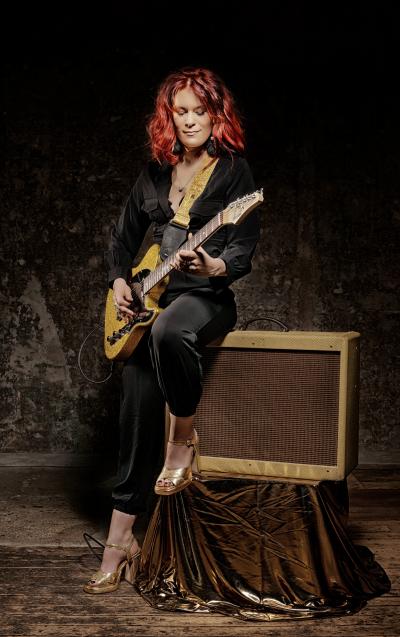 Biography
Jessie Lee grew up surrounded by blues and rock. She started playing acoustic guitar at the age of 6, progressing quickly with different teachers. She gradually moved on to the electric guitar and began accompanying herself singing. Thanks to the musical environment she grew up in, she was on stage at an early age and recorded three blues-rock cover albums with professional musicians between the age of 11 and 15.
At 18, she enrolled in the ATLA school of music in Paris. Upon graduation, she was also awarded the MIMA contemporary music accreditation from the FNEIJMA and was invited by the school to teach in first the junior then the professional program. Eager to learn and progress, she enrolled in the contemporary music department of the CRR music conservatory in Paris in 2013. She obtained her DEM degree in 2016 by unanimous decision of the jury.
In her student years, Jessie Lee also performed regularly with a number of bands of different influences: Quartier Libre (instrumental hip hop), The Cokepits (rhythm and blues) and Big Dez (blues). She was also invited to play with many of the big names on the French blues scene including Franck Ash, Manu Galvin and Eric Sauviat.
At the end of 2011, she crossed paths with guitarist-songwriter Alexis Didier. The good vibes they experienced playing together on stage led them to form a Blues-Rock cover band the following year, sharing their talent, vocals and guitar work. Soon they were writing songs, performed by the band Jessie Lee & the Alchemists. Together with Laurent Cokelaere on bass, Julien Audigier on drums and Laurian Daire on keyboards, this band now plays for audiences throughout France and internationally.
In 2012, she was invited to sing solo in a gospel choir alongside Joniece Jamison and Michael Robinson.
Regularly compared to Janis Joplin, Jessie Lee was also singled out by Franck Tortiller to interpret his tribute album "Janis the Pearl" for Jazz Day in Paris in 2015.
That same year, she played guitar and sang backup on stage for well-known French musician Sinclair.
In June 2015, she accepted to take part in the popular French TV singing contest "The Voice", in which a wider audience discovered her talent.
In 2017 and 2018, she played guitar and sang backup in the live band accompanying the musical comedy "Un été 44" that played the Comédia theater in Paris for 6 months.
In December 2017, she was invited by Premiers de Cordée to sing at the Paris Olympia theater alongside Louis Bertignac, Michael Jones and Mat Bastard (Skip the Use).
She is presently playing with a number of blues and popular musicians including Laurent Cokelaere and Michel Amsellem, as well as Francis Arnaud in "The Respect Sixters" Aretha Franklin tribute show. At the same time, she tours with her band Jessie Lee & The Alchemists who released their debut album in April 2018. A second album is in the works, and will be released by Dixiefrog Records on May 7th, 2021.