Johan Smith 
Classical guitar
Suisse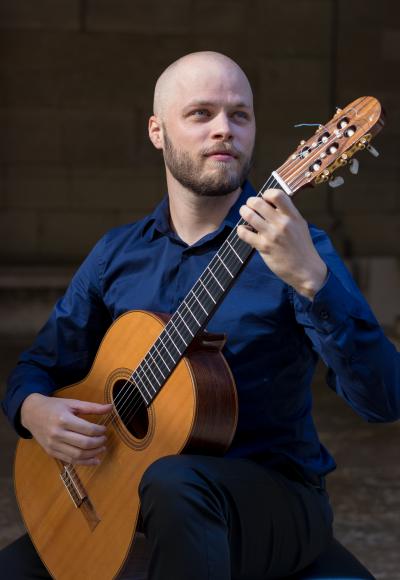 Biography
Winner of the prestigious Guitar Foundation of America (GFA) competition in 2019 and defined as the "Classical Guitar Revelation 2017" by the french magazine "Guitar Classical Magazine", Johan Smith has been invited to perform in renowned festivals, as concert and soloist, with orchestras such as the Lausanne Chamber Orchestra, the Budapest Symphony Orchestra and the Verbier Festival Orchestra. He is currently preparing the recording of his second album (Naxos, 2020), as well as a tour that will bring him to perform in the United States, Canada, Mexico and in the Carnegie Hall in New York.
His particular interest in contemporary music has led him to collaborate with several composers, including Josquin Schwizgebel and Arnaud Fillion who dedicated him his "Concerto for Guitar and Orchestra". In addition to the Guitar Foundation of America, Johan Smith won prizes in the following competitions: 1st prize at the VI° International Guitar Competition of Thessaloniki, 1st prize at the International Competition of Fontenay-Sous-Bois, 1st prize at V° International Festival Guitare au Beffroi, 1st prize at the 89° Leopold Bellan International Competition, 1st prize at the XIII° National Competition of Ceyzeriat (also winning the public prize), 3rd prize at the III° Pleven International Guitar Competition, 3rd prize at I° Aalborg International Guitar Competition.
Born in 1990 in Geneva, Johan obtained a Bachelor in 2015 and a "Master of Arts in Instrumental Pedagogy" in 2017 at the University of Music of Lausanne, in the class of Dagoberto Linhares. In addition to his activity as a guitar teacher at the Conservatoiry of Morges, he also obtained in 2019 the most important academic title in the field of musical performance in Switzerland: the "Master of Arts specializing in Music Performance Soloist", awarded by the highest grade. In a completely different approach, he is the founder, composer, performer and graphic designer in the extreme metal band "Stortregn", with whom he has already recorded four albums and played in three continents since 2005.
CD/DVD