Julien Bitoun
Electric Guitar
France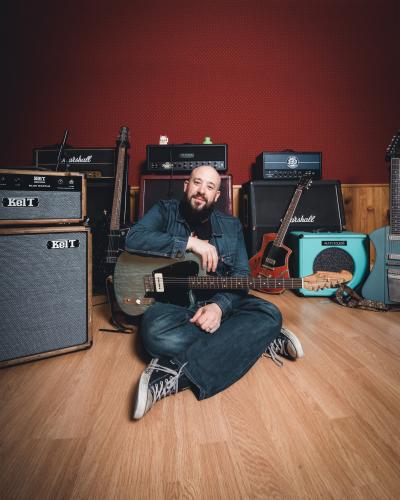 Biography
Julien Bitoun is a familiar figure on the French guitar scene, between his participation in the DVDs of Guitar Part, Guitare Xtreme, his demos for Guitare Village, and his interventions as a rock specialist and writer at Sciences Po, on RTL, France Inter, RMC, Ouï FM, France 3, RFI, France 24 and the BBC.
Musically, Julien Bitoun has been part of many bands, produced many albums and tours, always in a style deeply influenced by the rock of the 60s and 70s, from Creedence Clearwater Revival to Neil Young, Led Zeppelin, AC/DC and The Who. We find this "vintage" side in his guitar playing, always melodic and in the service of the songs. 
Nevertheless, Julien Bitoun's music is not a servile reproduction of the past, and it brings rock into the 21st century without electronic gadgets. Think of Jack White or Queens of the Stone Age and you'll have the idea. 
The power trio formula is a good way to leave more air in the music and to encourage improvisation and precious interaction between musicians, musicians who know each other so well that a single glance is enough to change a song live. 
The encounter with the rhythm section The Angels was an immediate love at first sight, between the deep and seated grooves of Swanny Elzingre (Juniore) and the pressing ardour of Paul Iron (Kropol Trio). Less than six months after its formation, the trio was in studio 180 with director Arnaud Bascunana (Wampas, Deportivo) for two days of live recording on tape, old-fashioned and without net.
An honest, essential music, anchored in the ground but which does not forget to fly away.