KEVIN SEDDIKI
Acoustic and Classical Guitar
France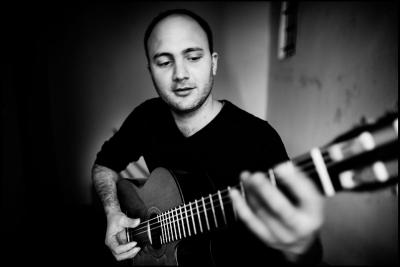 Biography
Concert guitarist, Kevin Seddiki raises the strings of his guitar in light of Classical and Jazz.
His curiosity and versatility allow him to be associated with projects from all lands, and all musical genres; and he shares the scene and recording studios with guitarist AL DI MEOLA, the Argentine Bandoneonist DINO SALUZZI, the Producer BIJAN CHEMIRANI, the Italian Violist PAOLO PANDOLFO the Harmonica player Olivier Ker Ourio, but also in different registers with Lebanese singer Yasmine Hamdan (ex-Soap Kills) or the actor Tcheky Karyo.
He also plays Zarb, Iranian percussion, he studied with the CHEMIRANI family, and also works with digital percussion Glenn VELEZ.
In 2009, he won the prestigious "European Guitar Award", in Dresden. (Jury members include Roland Dyens, Nguyen Le, Antonio Forcione and Thomas Fellow ...)
Following this competition; his firs album "Il Sentiero" comes out in May 2012 for the German label "Wildner Records" and occurs particularly at the Festival "Jazz sous les Pommiers" in Coutances as well as at the Royaumont Abbey, where he completed a residency around the first trio (with Bijan Chemirani and Daniele di Bonaventura).
It is now the accordion replaces the bandoneon, with Jean Louis Matinier or Fausto Beccalossi.
Kevin Seddiki composes and arranges pieces for one or more guitar, and regularly gives master classes, including using his two-Percussion Guitar. He is very interested in improvisation in various forms, and as a way to explore his instrument even at a beginner level.
CD/DVD
Informations
K.Seddiki/M.Simoglou/I.Maciuca Trio:
After many years playing togher with ONEIRA and other projects, Maria Simoglou and Kevin Seddiki propose a new trio with the Violin Wizard Iacob Maciuca. Their repertoire include compositions and arrangements from Greece, Romania, and Invented Lands...
Acoustic guitar
Classical Guitar