Laurène Durantel
Doublebass
France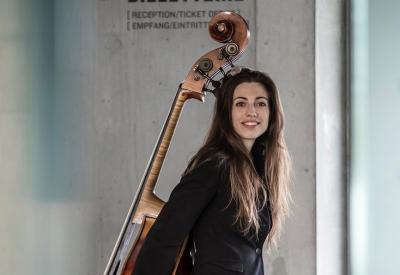 Biography
The double bass is an instrument that can be played in many ways. Laurène Durantel is one of those artists who wants to play with all the facets of her instrument.
After studying at the Conservatoire National de Paris, she became a member of the Orchestre National du Capitole de Toulouse, and then solo double bass in the same orchestra. She recorded two albums devoted to the composer G. Bottesini, with the piano player Daniel Benzakoun and the violinist Eric Lacrouts. As a chamber musician and soloist, she has played in major European venues such as the Wigmore Hall, Théâtre de la Ville, Hamburg Laeiszhalle, etc. with musicians such as the Ebène Quartet, Elias Quartet, Belcea Quartet, Valentin Erben, François Salque, Matthias Goerne, Céline Frisch, Mark Bouchkov....
She gives a central part to pedagogy, and a real reflection to teaching. In 2003, she founded the "Académie de contrebasse", which lasted 10 years. Member of the Carpe Diem ensemble, teacher at the CRR of Toulouse, she is now member of the 360 Ensemble since its creation.
She now plays with the Ensemble Variances and the composer Thierry Pécou, the Ensemble Calliopée, the Ensemble TM+. She is a member of the Mustang string quintet, with Geneviève Laurenceau. In 2015 she received the Nordmetall prize at the Meckenburg-Vorpommen festival, and was the 2013 Juventus laureate.
Her show for young audiences, combining double bass, piano and voice, Tue-Tête, was presented in November 2016 at the Théâtre de la Ville.