Laurent Cokelaere
Bass - Acoustic guitar - Double bass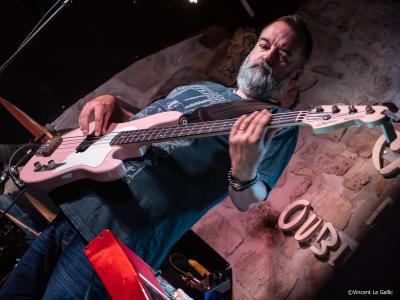 Biography
He has accompanied on tour: Alan Stivell, Jean-Claude Vannier, Michel Fugain, Enzo Enzo, Kent, Sheila, Michel Sardou, Keren Ann, Yves Duteil, Nolwenn Leroy (10 years of tours!), Jean-Jacques Milteau, Bill Deraime, Patrick Verbeke...
But also more occasionally, during radios, TV shows, concerts or albums: Charles Aznavour, Renaud, Maurane, Daniel Lavoie, Michel Jonasz, Véronique Sanson, Bernard Lavilliers, Eddy Mitchell, Florent Pagny, Francis Cabrel, Alain Souchon, Laurent Voulzy, Maxime Leforestier, Catherine Lara, Diane Dufresne, Gilbert Bécaud, Philippe Lavil, Richard Gotainer, Le Grand Magic Circus, Murray Head, Annie Cordy, Isabelle Boulay, Julien Clerc, Patrick Bruel, Christophe Maé, Christophe Willem, Stromaë, Abd Al Malik, Christine and the Queens or even Stevie Wonder !
He currently participates in groups:
"Jessie Lee & the ALCHEMISTS" with the young singer-guitarist Jessie Lee (the eponymous album was released in April 2018 http://www.jessieleeandthealchemists.fr/)
 "Les RAPETOUS" with guitarists Basile Leroux, Manu Galvin and Serge Malik (www.lesrapetous.com). They often have (or have had) Paul Personne, Norbert "Nono" Krief, Axel Bauer, Didier Lockwood or Larry Carlton as guests.
"RESPECT SIXTERS" group Tribute to the great Aretha Franklin, with 6 brilliant singers.
In 2018, Laurent Cokelaere also played (as a replacement by show of hands!) with artists as diverse as the Rite of the Tympanum, Laurent Gerra or Sylvie Vartan.
Bass guitar
DoubleBass
Acoustic guitar