Lionel Wernert
Guitar
France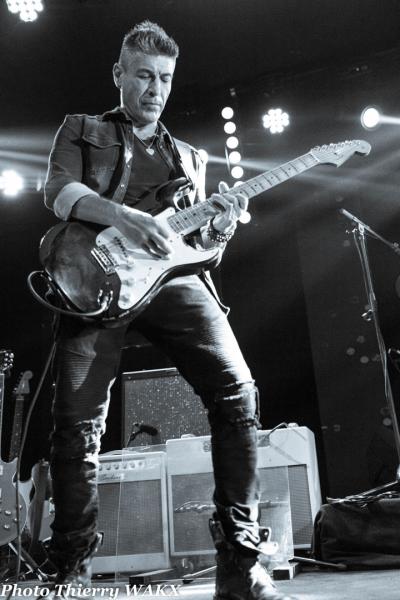 Biography
Self-taught, it is with surprising ease that they take you into their universe. And he's got plenty of experience in the genre! At the age of 4, he met the one who will remain his most faithful friend, his big brother Fred CHAPELLIER.
 
Because they were neighbours, the two young boys listened together to the mythical bands of the time and wore out their vinyls by slowing them down in order to study in great detail the plans and solos of the guitarists of DEEP PURPLE, LED ZEPPELIN, RAINBOW, THIN LIZZY... to name but a few. So naturally, they formed a rock band where they covered the songs that would become standards, and tried their hand at composing. 
At the end of their teenage years, Lionel was 18 years old when the two young people lost touch with each other. There are no social networks or mobile phones to facilitate today's connections. But in 2016, the accomplished musicians that they have both become find themselves as if they had never left each other and the friendship/fraternity that binds them is more present than ever. 
For his part, Lionel has accompanied several national artists on stage and his mind has been filled with riffs and numerous compositions that he kept waiting for the opportunity to find the ideal musicians with whom he could truly express himself.
 In 2012, he crossed paths again with Gipsy Bacuet, a singer with a soft and delicate voice, but also powerful and rocky when needed. Together they first formed a duo with which they covered Blues Rock standards and some Fred CHAPELLIER songs.
During a concert in 2019, Fred invites the duo to perform on stage by "lending" Lionel his own musicians. This is when something clicked, and Lionel decided to gather the best musicians of his region to form the Lee O'Nell Blues Gang (note the pun on the name of the band!) 
September 2020: Release of the first album " Different Shades Of Love " September 2022 : Release of the second album of the band " This is us " All the tracks of these albums are composed by Lionel. Gipsy adds the lyrics and friends Neal BLACK and LEADFOOT RIVET (co-founder of the reference label DIXIEFROG) are part of the writing team. Fred CHAPELLIER, never far from his "little brother", co-produced both albums.
In 2020, a fabulous meeting led to a friendship with Jade MACRAE (Joe BONAMASSA's backing singer) who co-wrote the lyrics of a track on the band's latest album. Passionate, perfectionist, hard worker, Lionel has studied the greatest: Peter GREEN, Albert KING, Eric CLAPTON, Joe BONAMASSA among others. And in his playing, one speaks of dexterity, fluidity, a velvety sound when needed.
 A clever mix between vintage and modernity, the right balance between catchy riffs and punchy solos that a flawless technique serves with delight. Lionel WERNERT leader of Lee O'Nell Blues Gang, to be followed on stage ...