Loïc Epitaux-Fallot
Acoustic, electric guitar 
France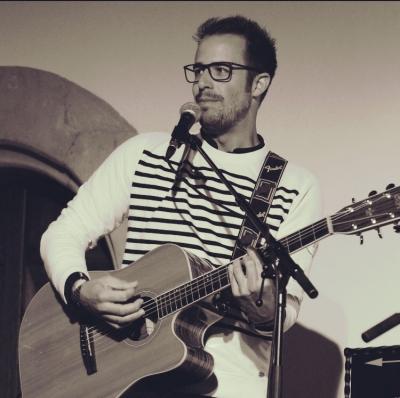 Biography
Since his birth in 1982 in Lausanne, Loïc has been rocked by music. First of all, through his mother's piano notes and those of his grandfather's cello, Guy Fallot, who made it his profession.
The trigger for the need to devote oneself to music is not very much. It was during a trip to the Mediterranean Sea that he listened to Souchon's live album "j'veux du live". The guitarist's playing and sound attracts his ear. It's the revelation. Music for him is that. The right sound, the harmony of the right note and the right word at the right time. All you have to do is turn the cover to discover the identity of the guitarist: Michel-Yves Kochmann.
In 2012, Alain Souchon starts his "Petit Tour". Concert that Loïc will see about fifteen times. The relationship with Michel-Yves was created and post-concert meetings were frequent.
It is time for composition. In 2016, a first opus was released: "A little bit like...". Welcomed by Radio Suisse Romande, the title "Un petit peu comme Sophie Marceau" will be broadcast a lot on Option Musique.
At the end of 2016, Loïc began writing a new album. Against all expectations, Michel-Yves Kochmann offered him the realization of it. A dozen round trips to Paris were necessary for the creation, arrangements and recording of 6 tracks. The EP is called "Rêvalité". A blatant passage from "dream to reality"; both in the encounter with Michel-Yves and in the texts of his new songs.  
Loïc sees the future calmly. Passionate about his job as a police officer, he does not see himself abandoning it. For him, musical development is about not putting pressure on himself. The balance between the rigidity of police procedures and the freedom offered by music ensures a well-balanced life.
Acoustic guitar
Electric guitar