Luigi Attademo
Classical guitar
Italy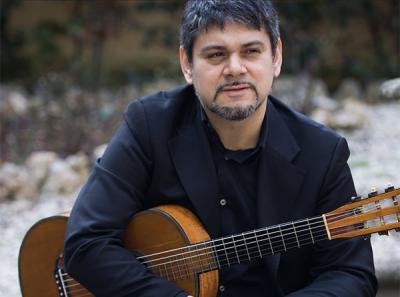 Biography
Luigi Attademo, born in Naples on 3 May 1972, studied music at the Giuseppe Verdi Conservatory in Turin, where he graduated in 1992, while studying with guitarist-composer Angelo Gilardino (en) from 1990 to 1993 at the Lorenzo Perosi Academy in Biella, where he received a further diploma.
He participates in seminars and master classes with Oscar Ghiglia, Dusan Bogdanovic, Tilman Hoppstock, David Russell, Thomas Müller-Pering, among others. He also studied baroque music with the harpsichordist Emilia Fadini.
He has been invited to several festivals and has premiered numerous contemporary works such as Angelo Gilardino's Concerto for Guitar and Orchestra and Lessons from Darkness and Alessandro Solbiati's Four Studies for Guitar.
Luigi Attademo has worked at the Andrés Segovia Foundation archive in Linares (Spain), cataloguing manuscripts (published in the Spanish musicological journal La Roseta), and has discovered unpublished manuscripts by important composers like Jaume Pahissa, Alexandre Tansman, Gaspar Cassadò and others. Following this discovery, he premiered several works such as Cyril Scott's Sonatina (Alessandria, September 2001), Federico Mompou's Compostelana Suite and Cancion y Danza n.10 from the first manuscript, Lennox Berkeley's Four Pieces, Fernande Peyrot's Theme and Variations, and others.
He has a doctorate in philosophy (musicology). He contributes to several specialised magazines, such as Guitart, Seicorde, Suonare News, Il Giornale della Musica, Filosofia. He published the book on music and interpretation entitled Musica e interpretazione: conoscenza e soggettività nell'esecuzione musicale (Trauben, Turin 2002).